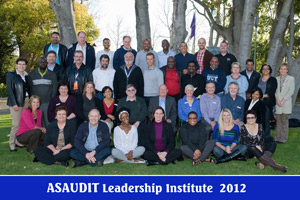 ICT next generation: The leaders-in-the-making who attended the inaugural run of the ASAUDIT Leadership Institute.
Sakkie Janse van Rensburg acknowledges that heads of information and communications technology (ICT) departments at South African universities are, like him, of a more mature age.
That means that capacity has to be built into the sector. "We realised there's a need for leadership development, especially when it comes to the next generation of ICT leaders," says Janse van Rensburg, executive director of UCT's Information and Communication Technology Services (ICTS).
So he and others from ICTS took the lead and approached the Association of South African University Directors of Information Technology (ASAUDIT) - of which UCT is a member - with a plan for a leadership development programme. The result is the ASAUDIT Leadership Institute.
In September, the ASAUDIT Leadership Institute ran its first programme, a week-long course for 32 delegates. These included a number of mid-level managers from UCT, but also from universities such as Fort Hare, Free State, Limpopo, KwaZulu-Natal, North-West, Pretoria, Stellenbosch, UNISA and Venda, and even from the Council for Scientific and Industrial Research, or CSIR.
Faculty members included Janse van Rensburg (director of the ASAUDIT Leadership Institute), UCT colleagues Allan Brinckmann and Penny Thompson, Tracey Chambers from Rhodes University, and a handful of international experts - Joan Getman from the University of Southern California in the US, Margo Hellyer of Monash University in Australia, Richard Northam from the Council of Australian University Directors of Information Technology (CAUDIT) and Dr Nick Tate of the University of Queensland.
The focus of the programme, based on a similar initiative of CAUDIT and Educause (an international association of IT leaders and professionals), was very much on the soft skills of management, reports Janse van Rensburg. So topics included leadership, managing for performance, leading and managing change, emotional intelligence - "the skills that help you function more effectively as a manager," says Brinckmann.
"In the context of South Africa, finding experienced IT management people is difficult," observes Thompson. "You need a combination of IT and management skills, and that's not easy to come by."
What proved very useful was the focus on managing in an IT environment at a South African university. And, from the feedback from delegates, the training was a resounding success. "You could see some people just blossoming," says Brinckmann.
Funding forthcoming, the programme will run on an annual basis, promises Janse van Rensburg. "It's our commitment to building the next generation of IT leaders."
---
This work is licensed under a Creative Commons Attribution-NoDerivatives 4.0 International License.
Please view the republishing articles page for more information.
---