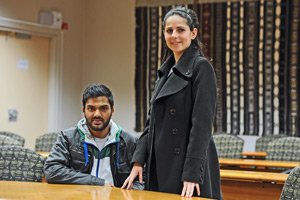 No kidding around: Jonathan Singh (left) and Amy Williamson performed with aplomb at the third annual Child Law Moot Court Competition in September.
Law students Jonathan Singh and Amy Williamson did UCT proud when they finished as runner-up finalists in the third annual Child Law Moot Court competition of the Centre for Child Law, held in Pretoria on 21 and 22 September.
Singh and Williamson - taking part in their first moot courts - finished second only to the University of Pretoria, five universities competing in the event. The duo, coached by James Newdigate, teaching and research assistant in the Department of Private Law, also secured the 'Heads of Argument' prize for UCT (for best written argument), while Williamson was also named as the best speaker at the competition.
Participants argued a hypothetical case that centred around the challenges involved in the adoption of South African children by non-South African residents living in the country.
Williamson described the experience as "quite daunting", with Singh adding that it took "a lot of work".
Because of the nature of the case being argued, the UCT team decided to, as Williamson phrased it, "play on the heartstrings" aspect, in addition to the cold logic necessary in a courtroom. Singh said that arguing a case in the North Gauteng High Court, a courtroom that has witnessed many a famous case, was a special experience.
"I don't think being in an office and doing a problem can compare with the experience of being in a courtroom, the same courtroom that the Delmas Four case was heard in, and in the same seats as some very famous advocates in the country, like [Arthur] Chaskalson," he testified. "That experience is quite special."
---
This work is licensed under a Creative Commons Attribution-NoDerivatives 4.0 International License.
Please view the republishing articles page for more information.
---