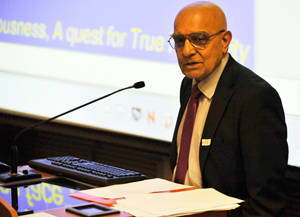 Prof Yosuf Veriava observed that a number of concerns about the role of medical practitioners emerged from the historical process surrounding the death of black consciousness icon Steve Biko. Veriava was delivering the inaugural Frances Ames Memorial Lecture, titled Frances Ames and the Biko Doctors: Responsibilities of medical practitioners. Ames led a team of six doctors, including Veriava, who challenged the medical establishment and the apartheid government over Biko's death in 1977.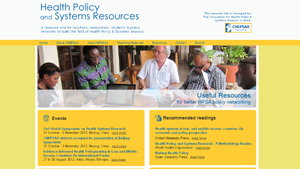 UCT researchers and their partners are making use of a newly developed website to promote and create awareness of an emerging research field. This website was developed by the Consortium for Health Policy and Systems Analysis in Africa, or CHEPSAA, to encourage a wider understanding of the relatively new research field of Health Policy and Systems Research and Analysis. This field "encompasses all the issues that underpin the delivery of good quality, efficient and equitable health care".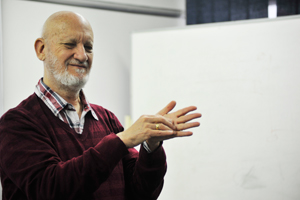 Marking Deaf Awareness Month in September, Cyril Axelrod, a deaf-blind priest, candidly shared with the UCT community how he deals with this disability in his everyday life.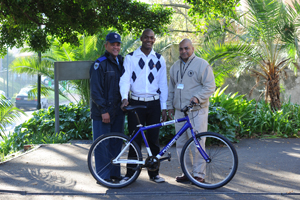 Student Eliab Malefahlo's (second from left, with Leon Perigrino and Bernard Saules) quest for education was boosted when G4S Security, service providers of UCT's Campus Protection Services, handed him a brand new bicycle. The bike will replace Malefahlo's dilapidated two-wheeler, and comes in handy for his daily trips from Surrey Estate, where he lives, to the university.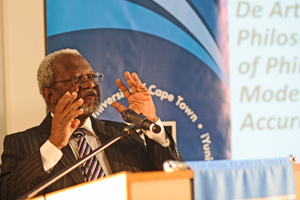 Delivering the latest Vice-Chancellor's Open Lecture at UCT on 25 September, a day after the Heritage Day, Emer Prof Paulin J Hountondji of the National University of Bénin argued that Africa needs both heritage and progress. He added that its people don't have to choose between the two.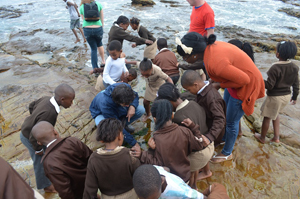 Grade two learners and volunteers from SHAWCO and the UCT Underwater Club enjoyed a fun-filled afternoon of activities at the Save Our Seas Shark Centre in Kalk Bay. The children, it's reported, thoroughly enjoyed watching the fish, sharks and other animals in the Shark Centre's aquarium before a quick visit to the Dalebrook Beach to explore the rock pools.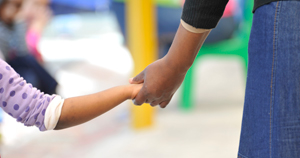 Advocates for children's rights from UCT's Children's Institute came out in favour of a kinship grant for children who are being cared for by relatives. They were reacting to a recent High Court ruling, which may result in grandparents who look after their orphaned grandchildren no longer qualifying for foster child grants.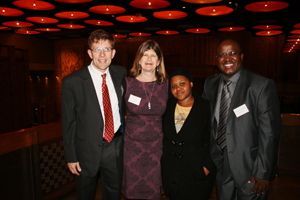 In a joyous celebration, the Education Development Unit (EDU) in the Faculty of Commerce hosted its annual Saville Foundation awards ceremony, a testament to what the programme and its students have achieved. Nontobeko Tshabangu (second from right, with Tim Low, Assoc Prof June Pym and Investec's Setlogane Manchidi,) won the Investec Student of the Year award for her dedication and contributions to EDU and its students.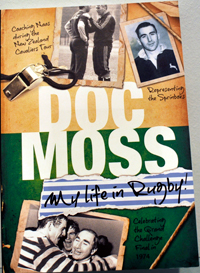 Former Springbok coach Dr Cecil Moss officially presented vice-chancellor Dr Max Price with a copy of his new book. Doc Moss: My life in Rugby is a treasure trove of memorable moments from his time as a UCT medical student through his career as the head rugby coach of UCT, Western Province and the Springboks.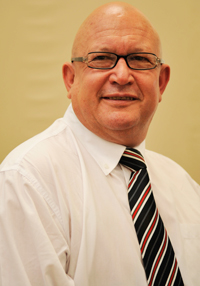 Sakkie Janse van Rensburg, executive director of Information, Communication and Technology Services (ICTS) at UCT, is one of the top 10 candidates being considered for the Visionary Chief Information Officer Award. The award, now in its fifth year, recognises an executive who heads up ICT strategy in an organisation and has demonstrated visionary leadership in using technology to support and grow business. It is presented by the Computer Society South Africa (CSSA), in association with ITWeb, the Gordon Institute of Business Science and Gartner Africa.
---
This work is licensed under a Creative Commons Attribution-NoDerivatives 4.0 International License.
Please view the republishing articles page for more information.
---