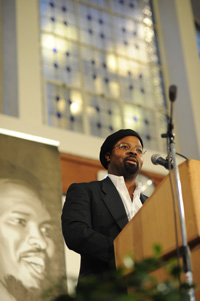 Hope: Africa, and specifically South Africa, has many lessons it could teach of the rest of the world, said Dr Ben Okri in the 13th Annual Steve Biko Memorial Lecture.
The annual Steve Biko Memorial Lectures at UCT have become renowned for their grand visions and lyrical delivery.
The 13th rendition, delivered by Nigerian poet, essayist and novelist Dr Ben Okri on 12 September, did not disappoint. And Okri covered plenty of ground in his five-part talk.
Okri, in a lecture for which, he said, he'd made up a title just minutes before entering Jameson Hall - going with Biko and the Tough Alchemy of Africa - spoke of the role that South Africa's anti-apartheid struggle, "one of the greatest struggles of our times", played in his own life and that of others around Africa. It was a fight, he said, that posed some of life's biggest questions; philosophical inquiries from the nature of justice and equality to the very existence of God. He spoke of Biko's life and his relevance today, a man whose life and writings pose equally "forensic questioning".
Okri also turned to Africa; a continent, he said, that has not always lived up to the hopes of its liberators. He spoke of the "evolutionary shift" freedom forces on people: "They are never quite the same people again." He spoke, too, of leadership, and how a country's citizens must be vigilant and demand more of its leaders: "The people cannot be passive about the single most important thing that affects them, which is the running of their lives."
But so much is possible, Okri said.
"If there is a correlation between experience and wisdom, between suffering and understanding, Africa is the richest delta of possible transformation."
Listen to a podcast of Okri's lecture.
YouTube Video:
---
This work is licensed under a Creative Commons Attribution-NoDerivatives 4.0 International License.
Please view the republishing articles page for more information.
---