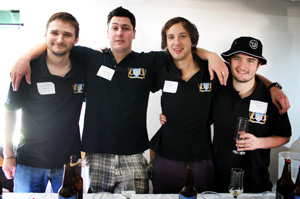 Brew buddies: (From left) Alex Opitz, Kyle Moskovitz, Franc de Flamingh and Brian Willis, along with Shawn Duthie (not in picture), took top honours at the recent beer-brewing intervarsity.
They're not quite the master brewers of lore and television advertisements, but the UCT Brewing Team are no mugs at cooking up a cold one.
So says the panel who adjudicated the South African Breweries/Institute of Brewing & Distilling Intervarsity Beer Brewing Competition late in August. They named the Brewing UCT team - Franc de Flamingh, Shawn Duthie, Kyle Moskovitz, Alex Opitz and Brian Willis - as the brewers of the best overall beer for their distinctively named and "very hoppy" All-American India Pale Ale.
Brewing UCT also walked off with the laurels in the ale category, took second spot in the speciality category for their Tsar Bomba - Russian Imperial Stout; and, just to show off the range of their skills, third in label design, again for the stout.
The team, all master's students in chemical engineering bar Duthie, who is doing political science, and sponsored by the Centre for Bioprocess Engineering Research in the Department of Chemical Engineering, has been applying itself since its "inferior" showing in 2011, when it made an eleventh-hour call to take part. Since then, the students have brewed close on 20 beers.
For the Intervarsity, held at Wits University from 31 August to 2 September, the team decided to take along some "big beers" - "they're going to be in your face," said Willis - in keeping with the taste buds of the judges there.
The students pushed the envelope with alcohol content as well. The Russian Imperial Stout weighed in 11.3%, well into wine category, according to Willis.
And it's not the team's first success for the year. In April another of their brews, a Strawberry Wit Beer, was named the most popular beer among the consumers at the SouthYeasters Brewing Festival, hosted by the SouthYeasters Home Brewers Club.
"Contrary to what many people may imagine when they hear of a brewing team, the time and the effort which goes into making a single brew has given us all a much greater appreciation of beers," notes Willis.
---
This work is licensed under a Creative Commons Attribution-NoDerivatives 4.0 International License.
Please view the republishing articles page for more information.
---