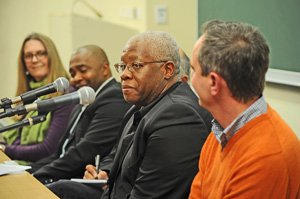 Expressions: Panellists (from left) Prof Pippa Skotnes, Dr Musa Ndlovu, Prof Crain Soudien (hidden), Aubrey Matshiqi and Prof Pierre de Vos shared their thoughts on the fracas around the painting The Spear.
One wouldn't think that it's often that an artist, a media studies lecturer, a political analyst and a constitutional law expert would agree on anything. But, at a recent panel discussion at UCT on the furore caused by Brett Murray's painting The Spear, they were unanimous: the only way to deal with this is to talk about it in an uncensored and free manner.
Chairing the discussion, deputy vice-chancellor Professor Crain Soudien said that, more than anything, the painting brought "all of our complexities to the fore and put them on the table," and that it put the country's "isms" '" racism, sexism, etc '" up for discussion.
Professor Pierre de Vos, constitutional law expert in the Department of Public Law, opened the discussion saying that, irrespective of the matter, he would always side with freedom of expression.
Dr Musa Ndlovu, of the Centre for Film and Media Studies, reiterated that "the humiliation of black bodies is real, relevant and raw". That said, he maintained that the independence of the media and artists should not ever be coerced.
"A painting is not a sentient being; it is unable to speak for itself," held Professor Pippa Skotnes of the Michaelis School of Fine Art. She added that an artwork is not forever bound to the artist, and that the interpretation thereof lies primarily in the frame of reference of its viewer.

Aubrey Matshiqi, a political analyst who writes for Business Day and Engineering News, said that the creative space in South Africa should be a special place, and that the "idea that things should be banned scares me".
---
This work is licensed under a Creative Commons Attribution-NoDerivatives 4.0 International License.
Please view the republishing articles page for more information.
---