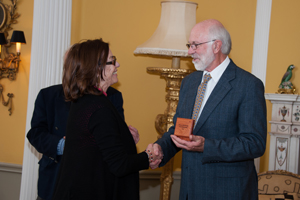 Flying high: Prof Les Underhill receives his award from Mary Slack, chairperson of the Oppenheimer Memorial Trust.
UCT's Emeritus Professor Les Underhill received the prestigious Harry Oppenheimer Fellowship Award for 2011 at a ceremony in Johannesburg last week - in so doing, becoming the fourth UCT (and twelfth overall) recipient of the award.
The Harry Oppenheimer Fellowship Awards were established by the Oppenheimer Memorial Trust in 2001 to commemorate the Trust's founder, and especially to recognise his efforts to support human and intellectual development, to advance scholarship, and to encourage ideas.
The honour comes with some special memories for Underhill: when he graduated with his PhD in mathematical statistics in 1973, it was Oppenheimer who capped him.
"It is a great honour and privilege to be linked to this amazing person once more, in this remarkable way," said Underhill.
Having "drifted far from" his roots in mathematical statistics into a new discipline known as statistical ecology - "where we put statistics into biology, and biology into statistics" - Underhill is now director of UCT's internationally acclaimed Animal Demography Unit (ADU).
The Oppenheimer award, which carries a monetary purse of up to R1 million, will go towards setting up early-warning systems for biodiversity in South Africa, reports Underhill. The "big idea" is to contribute towards the development of a toolkit for biodiversity monitoring.
"Not only has his vision of 'citizen science' shown how the broader community can become seriously involved in the work of the university," commented Professor Danie Visser, deputy vice-chancellor responsible for research, "but it has produced data sets that are indispensable to the future of our continent."
---
This work is licensed under a Creative Commons Attribution-NoDerivatives 4.0 International License.
Please view the republishing articles page for more information.
---