After a quiet (and one false) start, UCT's Celebrating Africa Month has steadily picked up steam. There've been seminars, book launches, serious talk, performances, a fashion show (and more coming) and some big-name visitors. Below we briefly summarise how staff and students have thrown their weight behind the May commemoration. And don't forget, Africa Day – the annual commemoration of the 1963 founding of the Organisation of African Unity – is on 25 May.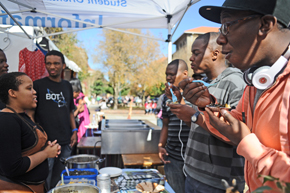 Jammie Plaza was brought to life by a colourful ensemble of traditional clothing, delicious foods and music from all corners of Africa; this at an event hosted by the Students' Representative Council and international student societies on 15 May.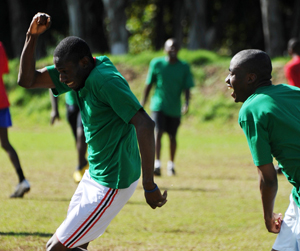 We Africans love our soccer. So, naturally, the Students' Representative Council and international student societies at UCT chose to kick off their contributions to Africa Month with a game of diski on 5 May. The game was a one-sided affair – the southern Africa side ran out easy 6-1 winners against a side representing southern and eastern Africa – but as the latter showed after their late consolation goal, celebration is the name of the game in May.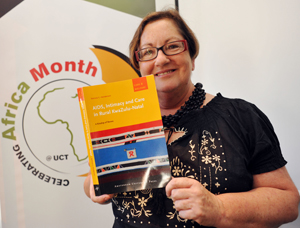 On 7 May, Dr Patricia Henderson, the Institute for the Humanities in Africa, hosted the launch of her new book, AIDS, Intimacy and Care in Rural KwaZulu-Natal: A kinship of bones. The book is based on Henderson's work in Okhahlamba in KwaZulu-Natal over 2003 to 2006, when she recorded the experiences of people living with HIV/AIDS.
The Faculty of Commerce officially launched its new Department of Finance and Tax on 8 May. At the event, HoD Prof Glen Holman (in picture with Prof Jennifer Roeleveld, head of the tax section) spoke on the potential for trade in derivatives in Africa.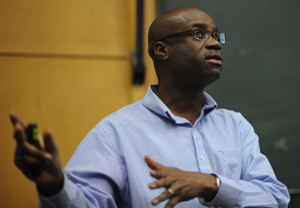 In his lecture on 8 May, Prof Kelly Chibale, director of UCT's Drug Discovery and Development Centre, or H3-D, spoke of the challenges for drug discovery in Africa, and the need for increased Africa-based infrastructure and manpower to address Africa's burden of disease.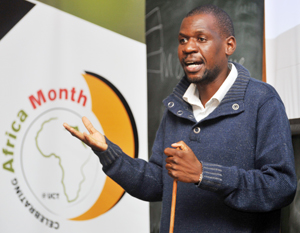 Dr Shadreck Chirikure challenged some holy cows of archaeology when he questioned accepted theories on the demise of Mapungubwe – the pre-colonial African state renowned for its gold artefacts – in a lecture, Was Mapungubwe the Origin of the Zimbabwe Culture?, on 14 May.
Minister of Science and Technology Naledi Pandor has been a regular on the UCT campuses. On 16 May she returned once more, this time as a guest of the SRC. As befits her portfolio, Pandor spoke on the challenges facing Africa and how science can help tackle those.
The Exuberance Project was made up largely of a week of sombre and serious discussion. But the Gordon Institute of Performing and Creative Arts likes a good show, so the launch on 11 May included everything from a masquerade and fireplay to screenings and a performance of Kat and the Kings by David Kramer and the late Taliep Petersen (holders of honorary doctorates from UCT).
---
This work is licensed under a Creative Commons Attribution-NoDerivatives 4.0 International License.
Please view the republishing articles page for more information.
---