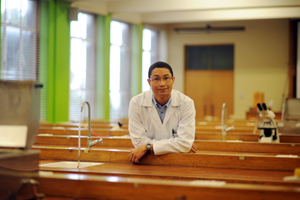 What does the job entail?
In a nutshell, Hattas and his team provide technical support to departmental teaching and research activities. Hattas co-ordinates and supervises the set-up of practicals, and assists academics in designing new and improving existing practicals. Aided by assistants Nazli Davids, Francois Majola, Zamikaya Jikumlambo (who recently moved to another department) and Edward Chirwa, he has multiple functions in the department. In the first semester, Hattas co-ordinates, teaches and administers the first-year cell biology practicals to about 300 students. He also manages demonstrators, mostly postgraduate students, who assist during practical sessions. In addition, he takes care of the teaching and selected research equipment and instrumentation, prepares teaching equipment budgets, and purchase equipment and chemicals. Furthermore, Hattas arranges departmental exhibitions, and designs, co-ordinates and teaches practicals for UCT's outreach initiatives such as the SHAWCO Saturday School, 100-Up, and the Maths and Science Education Project. He also engages in collaborative research with colleagues in his department and other institutions, both locally and abroad.
What are the challenges of the job?
Hattas' day is quite unpredictable and can change instantly. A demonstrator may suddenly fall ill, or an instrument may break or malfunction at a critical time. Furthermore, ensuring that practicals run as scheduled and with the desired outcome becomes a challenge when he has two or three running at the same time. "However, my competent and ever-reliable team of assistants help to ensure that we navigate these challenges successfully," he says.
What are the highs of the job?
Being able to work with and contribute to the development of some of the brightest young minds in South Africa and beyond. Another high is the beaming amazement and excitement of students and school learners when, for example, looking through a microscope, they see a whole new world unfold before their eyes. The cherry on top is finding time to conduct research for his PhD.
And the lows?
Hattas takes it personally when a practical or project he is involved with does not yield the desired outcome.
What is the weirdest moment he's encountered?
Realising that he was in trouble after failing to submit all of his practicals, one student wrote to Hattas: 'Dear Professor. You know when you plant seeds, not all of them grow as they are supposed to? Well, I am one of those seeds. I haven't handed in any of my practicals and was hoping that you would be able to help me sort out the problem.' "Can't fault him on creativity," Hattas quips.
---
This work is licensed under a Creative Commons Attribution-NoDerivatives 4.0 International License.
Please view the republishing articles page for more information.
---