Expert honoured for lifetime's seabird research | Tracking Africa's mammals | Secrecy bill's review vital to (re)public | New physios solemnly swear... | Baxter's Sunday market | NY alumni meet with O'Regan | Democracy in action | Online labour law service | Humanities 'wannabes' | Africa's urbanisation | UCT in R3m CCTV initiative
Expert honoured for lifetime's seabird research
The birds weren't the only drawcard on John Cooper's recent trip to Hawaii - the retired UCT ornithologist was also there to accept a Lifetime Achievement Award from the Pacific Seabird Group (PSG). In February, the US-based PSG honoured Cooper for his nearly four decades of study into seabirds. Cooper, now a research associate at the DST-NRF Centre of Excellence for Invasion Biology at Stellenbosch University, retired from UCT in 2008 after 35 years of research on seabird biology and conservation with the Percy FitzPatrick Institute of African Ornithology and the Animal Demography Unit.
Much of what is known about mammal distribution in Africa is based on historical - and often outdated - records. The African Mammal Atlas Project (MammalMAP), run by UCT's Animal Demography Unit (ADU), will aim to update those records. According to Dr Tali Hoffman, MammalMAP project co-ordinator, the work will involve consolidating evidence of mammal occurrence in a given location (obtained from camera traps, photographs and other reliable records) into an open-access digital database.Although MammalMAP will only officially be launched in July, the project has already received 5 000 contributions from more than 70 registered observers.
Secrecy bill's review vital to (re)public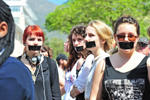 Yet another organisation has cautioned government that the Protection of State Information Bill threatens various fundamental principles enshrined in the Constitution. The UCT Students Against Secrecy movement recently made a written submission to the National Council of Provinces' (NCOP) Ad Hoc Committee on the Protection of State Information Bill. In its submission, the student group takes objection to key parts of the Bill, including the powers to classify information, appeals to the classification review panel, and the [lack of a] public interest defence.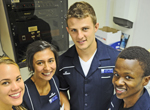 Each year, just days before they enter the clinical part of their studies and begin diagnosing and treating patients for the first time, UCT second-year students from the Division of Physiotherapy are required to formally pledge their commitment to upholding the strictest standards in the services they offer. Which they did once again at an oaths ceremony in February. "It is about getting them to take seriously what it means to be a physiotherapist, and how that impacts on their relationship with their patients, and their colleagues," explained the chair of the faculty's Professional Standards Committee, James Irlam.
Cape Town market lovers are in for a treat as the Baxter Theatre Centre's garden will be transformed into a food and goods market on Sundays. An initiative of the Baxter Theatre Centre in conjunction with Mark Coleman of Jump Events, the Baxter Food &anp; Goods Market, which starts on 4 March and will run from 10h30 to 17h00, will see exhibitors displaying and selling foods, artisanal products, fresh produce, and vintage and other unique items. For further enquiries and information on how to become a stall-holder, please contact Coleman on 071 493 4329, or visit www.baxtermarket.blogspot.com.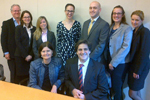 The Big Apple was the backdrop for a recent breakfast between US-based law alumni and fellow UCT graduate, former Constitutional Court judge Kate O'Regan. O'Regan was the guest speaker at the gathering, set up by New York-based attorney and chairperson of the UCT Fund, Trevor Norwitz. In picture, Judge Kate O'Regan (front left), appears with Norwitz (on her left), husband Alec Freund (far left, back), and alumni Laura-Lee Atkinson-Hope, Jaclyn Rabin, Julie Kourie, Sheldon Laing, Mieke Krynauw and Emma Ahrens.
Comment, criticise and compliment. These are the three C's steering the Students' Representative Council (SRC)'s C³ campaign, launched on 28 February when SRC members struck up off-the-cuff conversations with startled students in the Kramer building. By going grassroots, the SRC is hoping to hear students' thoughts on what's good, what's not and what's missing from UCT student leadership. The week-long campaign saw the red-clad SRC visit a campus during lunch-time and a residence at supper-time to get the lay of the land. "We need to be more visible, which is the main complaint people have all the time about the SRC," said Nkateko Mnisi, media and communications co-ordinator.
UCT Law@work has joined forces with online-education company GetSmarter to launch a web-based service that will provide employment relations news, training and a wealth of other information. Aimed at a community of human resources personnel, managers, business owners and anyone else dealing with employment issues and labour relations in the workplace, the UCT (Law@Work) Labour Law Club intends to take HR support to new levels. Members will receive weekly newsletters, video tutorials, employment relations documents and access to an active discussion platform. In picture is Richard Burge of Law@Work.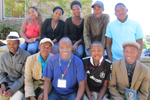 The dreams of nine 'wannabes' came true this year when they joined UCT as part the Faculty of Humanities' new recruitment and support programme, wannabe@humanities. The programme was launched last year to identify and support prospective applicants from among a pool of grade 11 and 12 learners from disadvantaged schools. During the year, participants attended a series of workshops designed to prepare them for UCT life, covering everything from admissions and funding to career choices.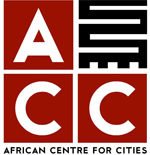 With 27 of the world's fastest-growing cities, Africa boasts the world's most rapid urbanisation, which necessarily impacts on the continent's biodiversity and ecosystems. To highlight those problems, as well as some of the unique features of urbanisation on the continent, UCT's African Centre for Cities recently co-hosted a workshop with the Stockholm Resilience Centre. The aim of the workshop was to gather an African perspective on urbanisation, for inclusion in the Cities and Biodiversity Outlook publications of the United Nations Environment Programme's Convention on Biological Diversity. The publications will present the first ever global assessment of the links between urbanisation, biodiversity and ecosystem services. The workshop brought together local government officials, planners, policy-makers, NGOs and researchers from seven southern African countries.
UCT is partnering with SAB Miller and the City of Cape Town in an initiative to install CCTV cameras along Main Road from Anzio Road, Observatory, to the SAB Brewery site in Newlands.
Each partner will provide R1 million to help fund the initiative. The City will monitor the cameras from its facilities in Goodwood.
Keeping tighter surveillance along the route on Main Road will assist all three partners. SAB Miller delivery trucks travel along Main Road; many UCT staff and students use this route; and the road is heavily travelled by commuters, school children and visitors to Cape Town.
"It was logical to create a partnership between business, the university and the city to increase security in this area," said John Critien, executive director of properties and services.
This route is within the Groote Schuur City Improvement District, which UCT helped set up in response to two fatal attacks on students in 2009 and 2010, while they were off campus and near Main Road.
The recommendation will go to the City's full council for approval.
---
This work is licensed under a Creative Commons Attribution-NoDerivatives 4.0 International License.
Please view the republishing articles page for more information.
---