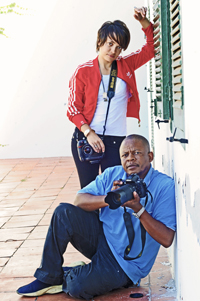 Life of the lens: Katherine Traut and Raymond Botha make sure that UCT and its citizens always look pretty as a picture.
What does their day look like?
The two photographers may be staples at events around campus, clicking and flashing away, but that is just one part of the job. The day starts with a daily briefing, after which they have to attend to emails and messages that require urgent attention, be it making appointments or sending off images to the external press and others. Then the fun starts. The better part of their day is spent photographing news-related events in and around UCT campuses, snapping high-profile academics, visitors, researchers, and students and staff partaking in everyday - and sometimes fun - UCT activities. Once the photographs are taken, Traut and Botha file and caption them for publishing, be it on the UCT online news site or in the unit's various print publications such as Monday Paper, UCT Alumni News, the Vice-Chancellor's Report and Campus Sport, to mention but a few. They are also required to shoot special projects.
What are the challenges of the job?
The greatest challenge is time management. No matter how well they plan their days, there are always new priorities. These are particularly challenging when on deadline. Also, certain people would demand that their photographs be taken in a way that does not fit the brief. But these are challenges they love to face head-on, they say.
What's the best part of the job?
Being a photographer means that there is always something new, whether it's meeting new people, capturing the latest scientific finding or visiting new places. And that's what keeps the job interesting and fresh for Traut and Botha. "I've wanted to be a professional photographer since I was a toddler," Traut says. "For years I would use any camera I could lay my hands on so that I could capture the moment in front of me."
And the worst?
Covering early-morning or late-night events - and there are many - can be a downside. At times the photographers have to attend events that require them to be there well ahead of time or stay late to get "that picture".
What are the weirdest parts of the job?
The two shutterbugs are both on the short side and on more than one occasion they've needed a step-ladder to capture that perfect shot. "For the four years I've been working here, it's been a running joke that I should carry a step around, just in case," Traut smiles.
---
This work is licensed under a Creative Commons Attribution-NoDerivatives 4.0 International License.
Please view the republishing articles page for more information.
---