Not forgotten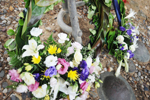 The Cape Garrison Artillery, formerly the UCT Regiment and a Reserve Force Unit, together with a contingent from the naval vessel the SAS Mendi held a commemoration service for the SS Mendi at its memorial site at UCT on 19 February. The SS Mendi sank in English waters en route to France in 1917. Some 616 of the 646 crew members and soldiers died, mainly black troops of the South African Native Labour Corps.
Waste not, want not
Chemical Engineering's multi-award-winning Dr Dyllon Randall has scooped yet another award for his research on processing wastewater from mines. Randall was one of three South African researchers to be awarded the renowned Green Talents sustainability prize in Berlin in December. The prize is awarded to exceptional young scientists active in the field of sustainable development. Randall was also a runner-up in the Young Persons' World Lecture Competition in 2011.
UCT gamers host global jam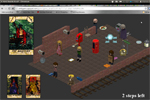 UCT's Department of Computer Science hosted the Cape Town leg of the Global Game Jam over the last weekend in January. Gamers in 47 countries and covering 242 locations kicked off at the same time to design a video or board game within 48 hours of a theme being revealed. Students from the UCT game development course formed part of the teams that finished first and third. In picture is a screenshot from the winning game, A Mind Beside Itself.
Same challenges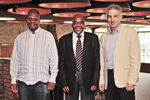 Universities and the media serve different constituencies and have distinct mandates, but at times they face the same challenges. This is why the two sectors need to strengthen their relationship, which is critical for economic growth, UCT vice-chancellor Dr Max Price (above, right) told editors at the council meeting of the South African National Editors' Forum (SANEF), held at the Baxter Theatre Centre on 11 February. Price is seen here with SANEF chairperson Mondli Makhanya (left) and Health Minister Dr Aaron Motsoaledi.
Isdell's book examines rebirth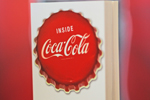 In times of economic turbulence, such as now, the world probably needs more business minds like Neville Isdell. The problem is that graduate Isdell is retired. Not all is lost, though. In his first book, Inside Coca-Cola: A CEO's life story of building the world's most popular brand, launched at UCT on 14 February, Isdell chronicles how, as chairman and chief executive, he "regilded the tarnished brand image" of Coca-Cola. The book is said to take an important look at how companies can market themselves more ethically, and successfully.
Setting the record straight
In the 13 February, Vol 31 # 01 edition of Monday Paper, we stated that RAG, aka Remember and Give, had hoped to raise R200 000 through the sales of this year's Sax Appeal. In truth, they were aiming much higher. Litte wonder - on the day they reached R730 370 in sales. That's about R35 000 more than in 2011. And according to RAG's Jean Barratt, plans are already being cooked up to make sure they go even bigger in 2013.
Easy writer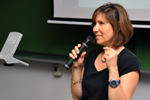 Even if at first they don't get it right, let them write: "Five to seven minutes of writing a day, that's all it takes." So said Dr Lori Assaf, director of the Central Texas Writing Project in the US, who presented a seminar titled Using 'Quick Writes' to Help Learners Discover Topics that Matter to a group of Western Cape teachers on 15 February. At the event Assaf discussed strategies to help learners develop the habit of writing and revision. "One of the key messages [of 'Quick Writes'] is that you don't need a lot of money and materials to make a huge difference," she said.
Physicists unite
A group of UCT physicists recently hosted a visit by Prof Raju Venugopalan, leader of the nuclear theory group at the Brookhaven National Laboratory, New York. At Brookhaven, home to the Relativistic Heavy Ion Collider, renowned as the world's second-highest-energy heavy-ion collider, Venugopalan and others are planning a US$1-billion upgrade to address questions that cannot be answered by the numero uno of particle accelerators, Europe's Large Hadron Collider. Over his stay, he also helped UCT's fledgling high-energy physics group - spearheaded by the likes of 'recent' appointments in the Department of Physics, Dr WA Horowitz and Prof Heribert Weigert - establish itself.
Democratic way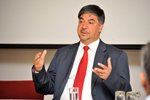 There is no contradiction between Islam and democratic governance as some have claimed, says Iraqi ambassador to South Africa, Dr Hisham Al-Alawi. In his talk, Democracy and Good Governance in Islam: Lessons from recent developments in Iraq and the region, hosted by UCT's Department of Religious Studies in February, Al-Alawi noted that the key functions of a democratic state, such as respect for human rights, dignity and social justice, are at the heart of Islamic teaching.
Medicine meets music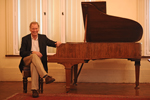 UCT's professor of primary health care, Steve Reid (above), recently toured with the World Doctors Orchestra on their first South African 'session'. The group's itinerary included a seminar, hosted by UCT and Reid, titled Musicians and Artists who are Health Professionals, and a performance at the Baxter Theatre Centre, where they performed a piece by retired UCT professor of composition, Peter Klatzow. The SA tour was in aid of the Ndlovu Care Group, a community health and development project in Elandsdoorn, Limpopo.
---
This work is licensed under a Creative Commons Attribution-NoDerivatives 4.0 International License.
Please view the republishing articles page for more information.
---