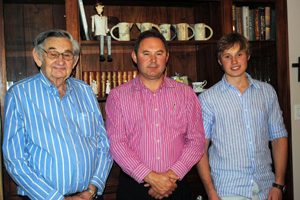 Next step: Niel Claassens comes from a traditional Afrikaans family, but he has become the fourth generation of Claassens men to study at UCT. Here he is above (far right) with grandfather Daniel ('Doddo') and father Tian.
At first glance Niel Claassens looks like your typical, fresh-faced first-year.
He is, and he isn't.
Niel is the fourth generation of Claassens men to study engineering at UCT. Still not convinced? Then consider this - they are a staunch Afrikaans family, yet their ties to this campus run deep.
The lineage goes something like this: Niel's great-grandfather, Jakobus Claassens, was a civil engineering student at the then-dual-medium UCT in the early 1900s, graduating in 1919. He went on to become the first town engineer in Worcester.
Enter Daniel Claassens, Niel's grandfather. Daniel studied civil engineering here from 1949 to 1952. He spent his whole professional life in the Department of Water Affairs, and retired in the late eighties as director general.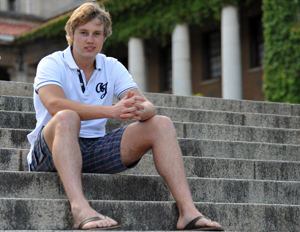 Niel's father, Tian, studied here in the turbulent 1980s. His troubles started as soon as he announced his intentions to come to UCT. At the Afrikaans Hoër Seunskool, from which he matriculated in 1979, he was called in by the principal, who wanted to discipline him.
Things were equally fraught at UCT.
"The 80s were stormy years and to an Afrikaans-speaker from Pretoria, UCT was like a different planet," Tian says.
At home in Pretoria no-one wanted to speak to him (other than to call him a traitor), and here he was called 'boertjie'. But he didn't let the name-calling get him down; he'd set his mind on coming to 'liberal-for-its-time' UCT. He graduated with a degree in chemical engineering in 1983.
Things are much easier for civil engineering student Niel, who fits in here just fine, he says.
"I came to UCT because I wanted to; there wasn't any pressure from my family. I came here because of UCT's top-class engineering faculty."
And Tian is quick to add: "Yes, we are an Afrikaans family. And to my mind UCT has such a rich Afrikaans heritage and has in its own right made such significant contributions to Afrikaans that there is no reason why an Afrikaans family cannot maintain such a relationship with the university, in spite of the fact that tuition is in English.
"My hope is that in the new South Africa, more Afrikaans families will re-discover their UCT roots."
And who knows - maybe one day a Claassens girl will join the ranks.
---
This work is licensed under a Creative Commons Attribution-NoDerivatives 4.0 International License.
Please view the republishing articles page for more information.
---