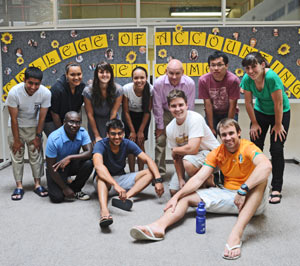 Moving on: Prof Mark Graham (third from right, back) celebrates the founding of the new college with students (from left, back) Asief Dhansay, Lornelle Jonas, Rayanne Kotze, Robyn Smith, Jason Chin and Jolandi Gevers; and (from left, front) Samael Malula, Dhanyal Davidson, Stuart Noland and Kyle Graham.
They're in high demand, but South Africa is battling to produce accounting professionals in adequate numbers, particularly from black communities.
To improve both the quantity and quality of accounting professionals such as chartered accountants, auditors, financial managers and tax experts coming through the system, and more importantly, to help transform the profession, UCT's Department of Accounting is ringing in some changes this year.
The department, a globally-recognised leader in the accounting education, has been renamed as the College of Accounting. The college was officially launched to much fanfare on 9 February.
But the change is more than just cosmetic.
"The college will have a far more explicit professional orientation than its predecessor," explains Associate Professor Mark Graham, founding head of the college, "and this will be embodied in its vision, mission and in the performance evaluation of its academics."
This, adds Graham, will allow the college to become involved in professional and transformational activities that will benefit both the accounting profession and society in general. While the training programmes will remain largely the same, the college will explore different ways to improve its throughput, especially that of black students. So it may, for example, look at language issues in the teaching of subjects.
"We need to understand how to better the teaching of students whose first language is not English," says Graham.
Beyond its own classrooms, the college works with the South African Institute of Chartered Accountants to assist Walter Sisulu University and the University of Zululand - two of the most disadvantaged institutions in the country - ramp up its programmes. Also, the college intends to play a more active role in government, where accounting has been found to be "a little weak".
Academics will be expected to provide high-level consultation to the state, and to be involved in the drafting of legislation, among other things. It is with this ambitious agenda in mind that the college wants to kick off 2012.
"We want to focus on what we do well, and that is important to get the economy of the country sorted," says Graham.
---
This work is licensed under a Creative Commons Attribution-NoDerivatives 4.0 International License.
Please view the republishing articles page for more information.
---