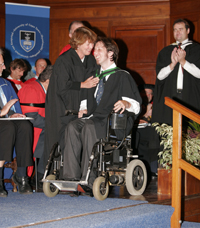 By degrees: Susan Batho will cap her son, Chris Day, for the second time when he gets his MSc (Eng) degree on 13 December.
When Chris Day graduates with his MSc (Eng) on 13 December, it will be the culmination of a long and arduous journey to fulfil his dream.
Day, who is wheelchair-bound as the result of an accident while working as a courier in London in 2000, will be capped by his mother, Susan Batho, who is secretary to the Head of Department of Mechanical Engineering.
This is Day's second degree earned against the odds - he obtained his BSc (Eng) in 2007 at UCT, when he was capped by his mother for the first time.
Day did his master's with Professor Chris Redelinghuys, specialising in aerospace. He currently works for a small company in Cape Town which designs and manufactures custom machinery, mostly for the mining sector.
On the challenges of being a student in a wheelchair, Day said: "It was a bit of a struggle access-wise, being on the side of the mountain, but any problems with venues were quickly resolved. I stayed in Smuts during my undergrad years, which was convenient, and staying off-campus was only possible due to the shuttle service provided by the Disability Unit, for which I applaud them greatly."
Day was a later starter at university, beginning his studies at 26.
"So perhaps my age gave me enough distance to not be greatly affected by the physical disparity. Also, I'd lived alone for about 18 months before studying full-time, so had come to some kind of peace with life."
Day said he would like to get some experience and accrue some savings in order to work in a circuit car-racing team.
He is delighted at the prospect of being capped by his mother.
Day's mother, too, is thrilled to be capping her son for the second time.
"I am excited for him. So much has happened in his life. He's done it himself. His girlfriend, Marcelle Lorenzo, has been a pillar of strength and the reason for his blossoming. I am really proud of him for persevering."
---
This work is licensed under a Creative Commons Attribution-NoDerivatives 4.0 International License.
Please view the republishing articles page for more information.
---