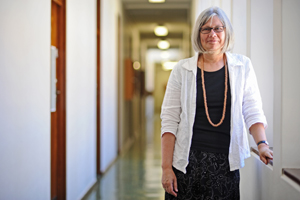 Welcome: New DVC Prof Sandra Klopper.
Professor Sandra Klopper, of the University of Pretoria, will take office as the new deputy vice-chancellor on 1 January 2012, taking over the position currently held in an acting capacity by Associate Professor Nan Yeld.
Klopper's portfolio will include providing leadership in the areas of teaching and learning, and academic planning; and she will have executive oversight of UCT Libraries and Information & Communication Technology Services. She joins the vice-chancellor, Dr Max Price, and deputy vice-chancellors Professor Thandabantu Nhlapo, Professor Crain Soudien and Professor Danie Visser in making up the executive team.
Klopper will use the title of Professor in the Faculty of Humanities.
"I am excited about the diverse qualities and experience in the team and look forward to the possibilities in the years ahead," said Price.
Klopper brings strong academic, management and leadership experience to her new role. She has been dean of the Faculty of Humanities at the University of Pretoria (UP) since October 2008.
She received her honours degree in art history (cum laude) in 1978 from the University of the Witwatersrand, where she returned later to write her PhD thesis, tracing the socio-political histories of various traditionalist art forms from present-day northern KwaZulu-Natal.
She also has an MA in art and social reform from the University of East Anglia, UK. She lectured in art history at Wits from 1981 to 1988.
In 1989 she joined UCT as a lecturer specialising in African art, and was promoted first to senior lecturer, then to associate professor, before accepting an appointment at Stellenbosch University (SU) as head of visual arts in June 2001. She became vice dean of arts (drama, fine arts and music) at Stellenbosch in January 2006, and accepted an additional appointment as acting head of the music department in mid-2006.
Klopper helped spearhead curriculum development at UCT, SU and UP. She currently chairs the teaching and learning committee at the humanities faculty at UP. She has served on the Senate Library Committees of both UP and SU. At SU she developed strategies for securing senior academic appointments from the so-called designated groups, and oversaw a major refurbishment of the visual arts department's building and facilities.
Klopper has played an active role in various community projects and initiatives. For many years she was the treasurer of the Visual Arts Group (a subsidiary of the now defunct Cultural Workers Congress of the Western Cape). From 2004 to 2006 she chaired the committee formed by the Western Cape Government to commission the Peace Laureate sculpture project at the Victoria & Alfred Waterfront in Cape Town.
Along with this strong performance in management and leadership roles, Klopper is an accomplished academic. She has written extensively on: the traditionalist art of southern African communities, including the expressive culture of migrant labourers and their families; African fashion, textiles and beadwork; various aspects of contemporary South African youth culture; and the work of several contemporary South African artists. She has published three books in collaboration with photographer Peter Magubane, and has served on the editorial boards of African Arts (UCLA) and NKA: Journal of Contemporary African Art (Cornell).
The National Research Foundation has awarded her a B2 rating, valid from 1 January 2012.
"Klopper's international ties are also strong - an important quality at UCT, where internationalisation and diversity form part of our strategic goals," said Price.
She has longstanding links with colleagues at various universities and museums in the US and the UK. She also has close ties with colleagues at Makarere University in Uganda and at the University of Dar es Salaam in Tanzania, where she supervised a PhD thesis funded through UCT's USHEPiA initiative. She continues to collaborate with her former Tanzanian student, Rehema Nchimbi, on various projects.
---
This work is licensed under a Creative Commons Attribution-NoDerivatives 4.0 International License.
Please view the republishing articles page for more information.
---