Scientists and artists get in Hot Water together | Chemistry student off to Michigan | Visiting academic answers questions of art with physics | The medical dean greets her graduating class.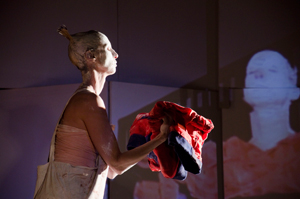 By their own admissions, scientists and artists talk very different languages. But they sometimes have shared concerns '" as with climate change '" and really want to talk to each other, and others. At Hot Water: Art and climate change, a programme hosted by UCT's Gordon Institute for Performing and Creative Arts from 14 to 16 October, they had a chance to explore such common ground. Over a weekend of poetry, panel discussions, performance art, film screenings, talks and exhibitions, they sought to mix and match scientific detail with artistic expression. They also spoke about their respective attempts to communicate climate change to the general public, especially the country's youth.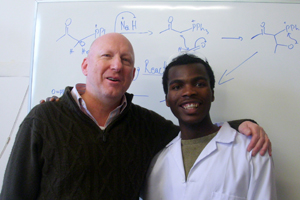 UCT master's student Thobela Bixa has won the prestigious Telluride Sidgwick-Miller Scholarship for 2011/2012, an award that will allow him to further his career at the University of Michigan in the US. Based in the Department of Chemistry, Bixa is conducting research on asymmetric synthesis, which involves the use of what's known as chiral catalysts to synthesise biologically active compounds that are potential drug leads. "The two projects (from UCT and UM) will give me a broader experience, understanding, and knowledge of asymmetric synthesis, a current hot topic in the field of organic chemistry research," commented Bixa on the scholarship. In picture, Bixa (right) appears with his UCT supervisor, Prof Roger Hunter.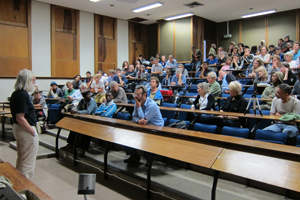 Post-impressionism and physics met when Dr John Ellis, the Clerk Maxwell professor of theoretical physics at King's College London, recently spoke at a public lecture hosted by UCT's Department of Physics. In his lecture, titled Answering Gauguin's Questions with the Large Hadron Collider, Ellis set out to respond to the questions posed by French painter Paul Gauguin in his famed 1897 painting Where Do We Come From? What Are We? Where Are We Going?. Only, Ellis used the language of physics, borrowing from findings coming out of experiments conducted on the Large Hadron Collider, the world's largest particle accelerator. Among other things, he spoke on the structure of matter, and the past and future evolution of the Universe.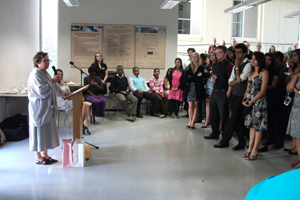 Prof Marian Jacobs, dean of the Faculty of Health Sciences, recently hosted a last formal gathering with the faculty's final-year students. (They'll meet again when the faculty releases its results to the popping of bubbly at a more laid-back occasion.) Some 150 students from the MBChB and health and rehabilitation sciences programmes attended the event. More than just an opportunity to wish students best for their exams, the meeting also allows the faculty to strengthen relations with their soon-to-be young alumni. This year, the cocktail was sponsored by the Development and Alumni Department. View the photo album.
---
This work is licensed under a Creative Commons Attribution-NoDerivatives 4.0 International License.
Please view the republishing articles page for more information.
---