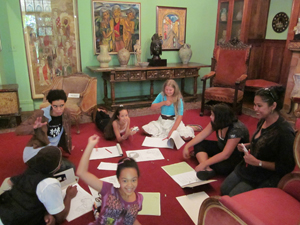 Fifty groups have already participated in the UCT Irma Stern Museum's educational programme, launched in January 2010 as an addition to the successful commercial gallery run by the director, Christopher Peter.
Curator Mary van Blommestein is responsible for co-ordinating this educational initiative, with local schools forming the major target group. Of the 30 groups that have participated this year, two were sponsored by SHAWCO's Star outreach project.
The school tours comprise an introduction to Irma Stern's art and an opportunity for learners to select a work for discussion - or to use as inspiration for their own compositions.
Several successful Saturday morning workshops and drawing classes have been held, some in collaboration with the Children's Art Centre in Zonnebloem. Groups of matriculants (and learners aged only eight) have visited, and feedback has been positive, Peter reported.
Dr Leon Holtzhausen of UCT's Department of Social Development set a written assignment for second-year students, which included a tutorial at the museum where the artwork and collections were used as an opportunity for communication and self-reflection.
"It is hoped that the educational programme will continue to expand and develop a new generation of art lovers," added Peter.
Next month Ian Garrett and Rae Hearn will be holding their exhibition, titled Confluence, which will be on view from 3 to 24 September.
(For further enquiries, contact the UCT Irma Stern Museum on 021 685 5686 or e-mail Mary Vanblommestein.)
---
This work is licensed under a Creative Commons Attribution-NoDerivatives 4.0 International License.
Please view the republishing articles page for more information.
---