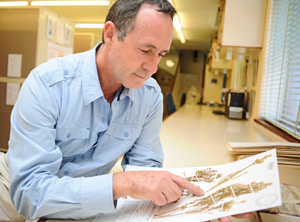 Leaves in time: Terry Trinder-Smith, curator of the Bolus Herbarium, which celebrates 100 years on campus this year. The herbarium was founded in 1864 and moved from Kirstenbosch to UCT in 1911.
UCT celebrates 100 years of custodianship of that famous repository of plant specimens and material, the Bolus Herbarium. Founded in 1865 in Graaff-Reinet by stockbroker and amateur botanist Harry Bolus, the herbarium is the "quintessential collection" of the Cape Floral Kingdom, and the country's oldest functioning herbarium.
Although it does not approach the size of university herbaria in Rome, Los Angeles, Zurich or Michigan, it houses a collection of over 350 000 specimens, making it the third-largest in Southern Africa. The earliest plant specimens in the collection were gathered by William Burchell in 1824, during his famous travels into the interior.
The herbarium is a floral data banking system; each unit, a dried and pressed specimen of plant material mounted on card together with its name, is accompanied by information on locality, associated vegetation, habitat, flower colour, name of collector and date of collection.
New plant specimens arrive to be added to the collection all the time, and this material is first frozen for 48 hours to eradicate bugs.
"There's a whole suite of insects that love to munch up dry specimens," said Bolus Herbarium curator Terry Trinder-Smith.
The value of the collection is in its historical record. For example, the herbarium houses a species list for Rondebosch Common, from long before development took place along its periphery.
"Records like these help botanists determine shifts in species distribution patterns over time, and can act as a basic tool by which we can assess how climate change may affect species distributions in the future," said Trinder-Smith.
Education was important to Bolus, and he donated money to the South African College (from which UCT emerged) for a chair of botany. This became the first full-time botanical teaching post in South Africa. In 1917 the post was designated the Harry Bolus Chair of Botany and its first incumbent was Harold HW Pearson, later founder and director of the National Botanic Gardens at Kirstenbosch. On his death in 1911, Bolus bequeathed the herbarium and his botanical library to UCT. Much of the collection is available to the world's scholars thanks to a Mellon-funded digitisation project that wrapped up in 2007.
Decades ago the first UCT taxonomists collected plants from ox wagons or mule carts. Now 4x4s take them to remote places in the Karoo, Richtersveld and Drakensberg in search of new specimens. As part of the centenary celebrations Trinder-Smith plans to take a party of top botanists into the mountains beyond Touws River, hoping to collect new specimens that might add value to the collection, or possibly even find a new species.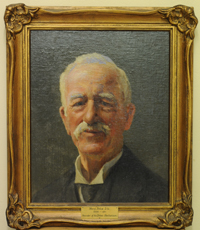 Several exhibitions and lectures will mark the centenary of the Bolus Herbarium on campus. The first of these is on 23 August when Professor Peter Linder of the Institute for Systematic Botany at the University of Zürich will speak on herbaria, universities and plants systematics. Linder was a lecturer at UCT from 1987 to 2001. On 24 August Dr John Rourke, former curator of the Compton Herbarium, South African National Biodiversity Institute, Kirstenbosch, will speak on Harry Bolus (in portrait). Professor William Bond, the Harry Bolus Chair of Botany, will deliver a lecture on 25 August titled The Green Planet: The Strange and fascinating world of plants. These lectures will take place at 18h00 in the Zoology Department, Lecture Theatre 2. An exhibition, A Living Legacy: Harry Bolus, a Cape Cameo Collection, curated by Mary von Blommestein of the Irma Stern Museum, will run from 23 August to 9 September.
---
This work is licensed under a Creative Commons Attribution-NoDerivatives 4.0 International License.
Please view the republishing articles page for more information.
---