Maternal mental health under the spotlight in new report | UCT pair outsmarts rivals in national debating championship | Health sciences combine clinical practice and research in new fast-track degree programme | Alumnus tracks progress of small-town rugby giant-killers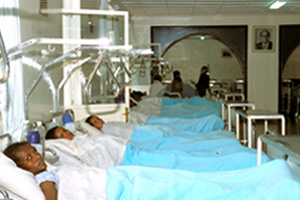 The UCT-based Perinatal Mental Health Project (MPHP) has thrown its weight behind a report by the women's rights division of Human Rights Watch (HRW), released on the eve of Women's Day. The 66-page HRW report, titled Stop Making Excuses: Accountability for Maternal Health Care in South Africa, spells out some of the reasons for the quadrupling of South Africa's maternal mortality rate. The report also corroborates previous studies documenting abuse in obstetric settings, said the MPHP in a release. The area where intervention is most urgently required, according to both the MPHP and the HRW report, is the emotional wellbeing of health workers, which can - for better or for worse - contribute to the wellbeing of mothers and their infants. (Picture courtesy of WHO/ P Virot.)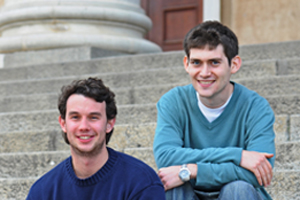 Debating Union chair Matthew Butler-Adam says this has been UCT's best year in debating, and the team's showing at the national student debating championship, hosted by the University of Pretoria from 9 to 15 July, was evidence enough that this may well be the case. Economics master's student Butler-Adam teamed up with BSocSci third-year Daniel Kaliski (left and right in picture) - 2009 World Schools Debating winner - to win the final debate about whether or not "it was an order" is a legitimate defence in an international war crimes court. The win marked UCT's first victory in the team event since 2007.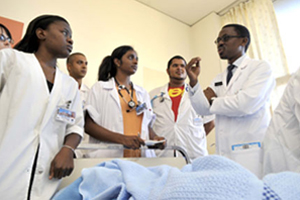 Why do US scientists dominate as Nobel Prize-winners in Medicine? Professor Bongani Mayosi, head of UCT's Department of Medicine, believes spliced MBChB/PhD degrees may be the answer. The fast-track system, now being implemented at UCT, "detangles" the degree path for top students, enabling them to take a break from their MBChB to complete an intensive honours, master's or doctoral research programme, before returning to complete their medical degrees. "This system allows us to catch students while they're still young and embed them with a culture of research," says Mayosi (in picture with medical students).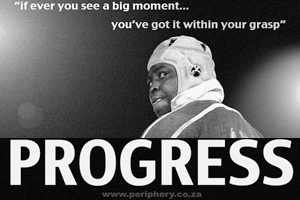 UCT alumnus Simon Taylor will soon toast the release of Progress, a documentary about a community rugby team from the Rosedale township outside Uitenhage in the Eastern Cape. According to producer and director Taylor, who did a short course in business acumen for artists at UCT's Graduate School of Business in 2008, the film is a personal account of a season in the life of prop forward Zama Takayi and his teammates, as they come to terms with beating favourites Maties at the 2006 National Club Championships in Stellenbosch. Progress will screen at the Labia Theatre from 19 August.
---
This work is licensed under a Creative Commons Attribution-NoDerivatives 4.0 International License.
Please view the republishing articles page for more information.
---