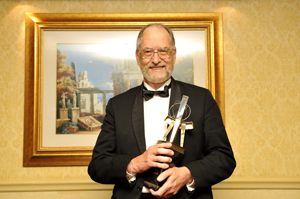 In memoriam: Prof Johann Lutjeharms (seen here with the Individual Over a Lifetime Award presented to him by the National Science and Technology Forum in 2008).
UCT is sad to report the deaths of two of its longest-serving and most respected scientists, Professor Johann Lutjeharms (oceanography) and Associate Professor Wolf Brandt (molecular and cell biology).
UCT's Professor Johann Lutjeharms, one of Southern Africa's leading marine scientists and the foremost authority on the Agulhas Current, died on 8 June after a 10-year battle with cancer. He was 67 years old.
Tributes to Lutjeharms have been pouring in from across the world. Lutjeharms, of UCT's Department of Oceanography, will be remembered and honoured for his academic passion, his prodigious contributions to peer-reviewed scientific literature, and the scores of international awards and other honours he received, as well as for his modesty and the support he provided to young researchers and students.
He served as a visiting academic at many universities around the world, thus building the international reputation of African marine science and knowledge of the oceans around this continent. He had been an A-rated researcher since 1998, identifying him as an international leader in his field.
Among the many accolades he received was the Order of Mapungubwe (Silver), the country's highest national honour, presented to him by President Jacob Zuma in 2010 for his outstanding contributions to and achievements in oceanographic science. Lutjeharms was also a winner of the 2008 Individual Over a Lifetime Award from the National Science and Technology Forum.
In addition, he was one of only three UCT academics to have won all three of the university's main forms of recognition for academics: the UCT Fellowship, the Distinguished Teacher Award, and the Book Prize/Meritorious Publication Award.
Internationally he served on working groups of the Scientific Committee for Oceanic Research, the International Union of Conservation of Nature and Natural Resources, and the International Association for the Physical Sciences of the Ocean. He was also the expert consultant in oceanography for the Woordeboek van die Afrikaanse Taal.
Lutjeharms completed his undergraduate studies in physics. In 1971 he received his MSc (cum laude) in oceanography from UCT. He was awarded the Harry Crossley Bursary, the Fisheries Development Corporation postgraduate overseas bursary and the CSIR overseas bursary to study for a PhD at the University of Washington, where he graduated in 1977.
He then joined the National Research Institute for Oceanology, where he held the position of chief specialist researcher. He was appointed to the Chair of Ocean Climatology at UCT in 1990.
In 1993 he became the founding director of UCT's Centre for Marine Studies.
Lutjeharms is survived by his wife, Ronel, and their children, Maria and Wilhelm.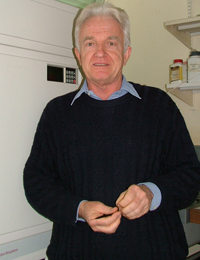 Sorely missed: Assoc Prof Wolf Brandt.
Associate Professor Frederich 'Wolf' Brandt, of the Department of Molecular and Cell Biology, died on 15 June, two days after his 66th birthday.
Brandt was born in Anderbeck, East Germany, in 1945, and was raised in Namibia. He obtained his BSc and BSc honours degrees in chemistry from UCT, the latter in 1968. He obtained his PhD degree in biochemistry at UCT in 1973, under the supervision of the late Professor Claus von Holt, on the amino acid sequence of chicken histone F3.
Brandt joined the academic staff of the former Department of Biochemistry in 1974 as a lecturer, and progressed through the ranks to associate professor in 1981.
His histone sequencing work led to important insights into structure/function relationships, such as the multidomain structure of histones, with highly-conserved central sequences and more variable N- and C-terminal domains.
Brandt also made important contributions to the area of histone modification, identifying methylation and acetylation sites and their location in the exposed N-terminal tails, central to modern day epigenetics.
In more recent years he studied the biochemistry of polyphenols and their role in plant and yeast desiccation tolerance. He published 73 papers in peer-reviewed journals during his career, and his histone work in particular has been very well cited.
He is survived by his wife, Joyce, and daughters Julie and Claudia.
---
This work is licensed under a Creative Commons Attribution-NoDerivatives 4.0 International License.
Please view the republishing articles page for more information.
---