UCT pianist joins Royal Academy | GSB the best of the Africa business schools | Owen Kinahan goes gold | Outa Lappies, colourful UCT supporter, dies | Law goes big with scholarships | UCT's first batch of mediators graduate | Lecturer talks water and mining | UCT pair part of new international vaccine foundation
Renowned pianist James Baillieu, a graduate of UCT's South African College of Music, has been snapped up by the prestigious Royal Academy of Music in the UK, joining the famed institution's academic staff as junior fellow. In demand as a concert and chamber musician in England and Europe, Baillieu has received the Christian Carpenter Award and was appointed a Hodgson Junior Fellow during the 2007/08 season. He takes on his new position, teaching piano accompaniment, in September.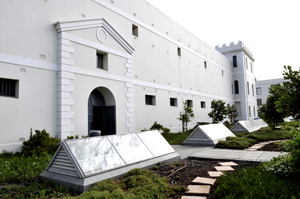 Business magazine African Business Review has, in its July edition, listed UCT's Graduate School of Business (GSB) as the best business school in Africa. On its list of top 10 business schools on the continent, the magazine hailed the GSB for its innovation and "clear set of values". No fewer than five South African-based business schools featured on the list. In November 2010, the GSB was also named the best business school in Africa, for the third consecutive year, at the Eduniversal Global Convention in Prague, Czech Republic.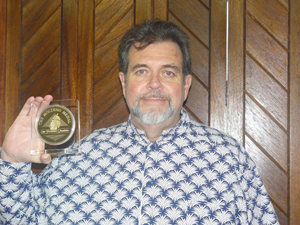 Chairperson of UCT's Building and Development Committee, Alderman Owen Kinahan, is the 2011 recipient of the Molteno Gold Medal for lifetime achievements in conservation. Among Kinahan's many projects were the restoration and recommissioning of the Josephine Mill in Newlands, the redevelopment of St Peter's Cemetery in Mowbray (which involved 10 000 exhumations), the construction of an ossuary and the Garden of Remembrance. During his 15 years as a Cape Town City councillor, he has served almost continually on the Planning Committee and was a Council member of the Cape Tercentenary Foundation for 18 years.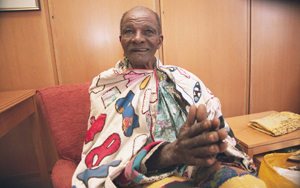 Devoted UCT donor Jan Schoeman, aka Outa Lappies, died on 6 July. Schoeman, known as the "Master of Recycling Art" and the "Patchwork Philosopher and Karoo Artist", was famous along the highways and byways of the Karoo, and sometimes further afield, for pulling behind him a homemade rickshaw decorated with feathers, old shoes, lanterns and pots. Schoeman had set up the Outa Lappies Scholarship at UCT, benefiting students in fine arts field and supported by a couple from Norway.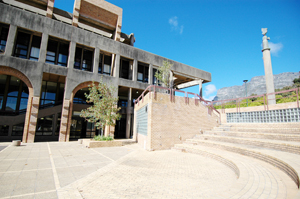 UCT's Faculty of Law is offering R400 000 in scholarships to top South African black learners who intend to study law at the university in 2012. It is the third year that the Law 150 Endowment Fund scholarships are offered, and will see 10 learners each receive R40 000, thanks to the generosity of law alumni and friends. Law 150, which supports 26 students this year, is the law faculty's fundraising campaign launched in 2010 to celebrate its 150th anniversary.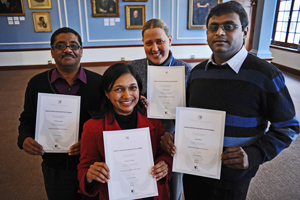 Mediation has become the cornerstone of UCT's new approach to disputes and conflict resolution and for that, you need people trained in this practice. So the recent graduation of 27 mediators - the university's first - was a milestone occasion. Mediation is a reconciliation process where bruised relationships are confronted rather than avoided for 'peace's sake', explains the UCT Ombud, Zetu Makamandela-Mguqulwa. In picture are graduates (from left) Timothy Layman, Shaminie Chetty, Kirsten Corin and Sean Devan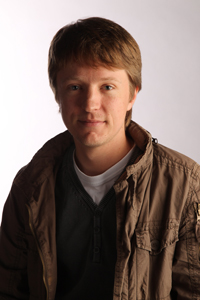 "Water is the new oil" is currently a catchphrase in the mining world, and also the basis of Dr Dyllon Randall's award-winning lecture, which took the top spot in the South African leg of the Young Persons' World Lecture Competition. Sponsored by the international Institute of Materials, Minerals and Mining network, the competition's final round takes place in Säo Paulo, Brazil, on 29 September. Here Randall, of UCT's Crystallisation and Precipitation Unit, will compete for the big prize with his lecture, Pass the Salt: Recovery of water and salts from mining brines using Eutectic Freeze Crystallization.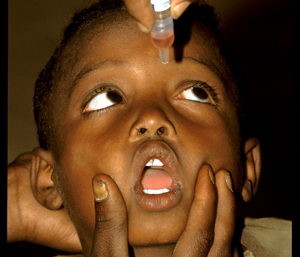 Two UCT scientists were among the 14 international experts who recently launched the new Washington DC-based Vaccine Research Foundation, which will campaign for increased funding for vaccine research against infectious diseases. Co-founders Professor Gregory Hussey, director of Vaccines for Africa, and Professor Willem Hanekom, director of the South African Tuberculosis Vaccine Initiative, share the foundation's belief that the minimal funding of vaccine research is "shortsighted". "The impact of colliding HIV and TB epidemics in South Africa is devastating," said Hanekom. "Vaccine development is hampered by inadequate resources. The foundation has a critical role in reversing this situation."
---
This work is licensed under a Creative Commons Attribution-NoDerivatives 4.0 International License.
Please view the republishing articles page for more information.
---