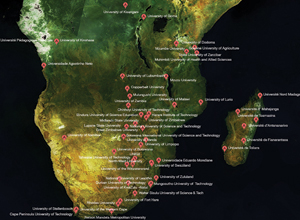 An image of Africa showing the tertiary institutions affiliated to the Southern African Regional Universities Association (SARUA). Founded in 2005, SARUA is a membership-based organisation open to the 70 public universities in 15 countries comprising the Southern African Development Community (SADC). Over 50 public universities, including UCT, are currently members of the association.
UCT is one of South Africa's leading research institutions. Its production of research on and about South Africa, and the continent more broadly, can be assessed by its published record, writes Professor Robert Morrell. In 2010 UCT produced 1 788 subsidy-earning journal articles. Of these 426 (23%) contained 'Africa' in the title and 310 were published in journals dealing explicitly with African issues. The Faculty of Health Sciences contributed 171 articles to this total while the Faculty of Science contributed 122 with the Faculty of Humanities producing 54 articles.
Environmental issues, from the health of grasslands and fish stocks to urban housing, were reflected in 47 contributions. The bulk of these, 37, were produced by the science faculty. Published research reflected both on the continental landmass and its oceanic perimeter, examining fish, birds, animals and plants and their interaction with humans. Themes that ran through many articles were biodiversity, degradation and the sustainability of current practices and policies.
Thirty articles dealt with issues of poverty, inequality and employment. Many articles engaged with policies and programmes, including the Millennium Development Goals, designed to alleviate poverty and reduce inequality. Joblessness, homelessness, welfare and access to healthcare and social welfare were also topics addressed by these articles.
For articles on Africa the research area of AIDS generated 68 articles: 57 in the health sciences faculty and seven in the humanities faculty. These dealt with prevention and cure, sexual risk factors, the use of antiretrovirals and health policy.
There were also nine articles dedicated to indigenous knowledge and institutions. The role of traditional healers in the contexts of primary healthcare and dictionaries for African languages were among the subjects examined.
Contracts with researchers
Of the hundreds of collaborations undertaken at the university, UCT academics currently have 32 contracts involving African research institutions and commercial entities in 15 different African countries. The countries range from near neighbours Namibia, Botswana and Zimbabwe, to East Africa (Uganda, Tanzania and Kenya) to West Africa (Benin, Burkina Faso, Ghana, Mali, Nigeria and Senegal). The Democracy in Africa Research Unit in the Centre for Social Science Research has the most contracts (11). Nine of these are associated with the African Legislatures Project (ALP) headed by Professor Robert Mattes. ALP is a study of legislatures and legislators in 19 emerging democracies across Africa, with support from the World Bank, United States Agency for International Development and the UK Department for International Development, as well as the UCT Vice-Chancellor's Strategic Fund.
Three of the contracts involve over R1 million. The largest (R2 180 907) involves the Department of Medical Microbiology and the University of Malawi and is funded by the Wellcome Trust. The next (R1 273 109) connects the Democracy in Africa Research Unit with African countries through the Afrobarometer Capacity Building Project. The Afrobarometer conducts public opinion surveys in 20 countries across sub-Saharan Africa. As part of this project, UCT hosts an annual Summer School in the Analysis of Public Opinion Survey Data, which brings young scholars from Afrobarometer partner organisations to Cape Town for four weeks of intensive work. The third contract (R1 098 000) involves the Department of Environmental and Geographical Sciences in a project titled Coral Reefs and Global Change - A historical perspective spanning the Western Indian Ocean (with the Western Indian Ocean Marine Science Association, based in Tanzania).
PhDs on Africa
In 2009 UCT graduated 186 PhDs. Twenty-six of their doctoral theses were related to the rest of Africa while a further 53 were focused on South Africa. Thirteen doctorates that engaged with African content were awarded in the humanities faculty. Among these are four notable studies. Sikelela Moses Dlamini graduated in education with a study titled Early Language and Literacy Learning in a Peripheral African Setting: A study of children's participating in home and school communicative and literacy practices in and around Manzini, Swaziland. Another education student John Naazi Oliphant, completed a study titled Multiple Arenas and Professional Identity: Locating and defining the professionalism and accountabilities of the teacher educators in Lesotho. The significance of the study was its examination of Lesotho's unique colonial history, the roles of the Christian missions and the British government.
Two studies examined women in Africa. Mirjam Rahel Scarborough completed a PhD in Religious Studies titled Called to Mission: Mennonite Women Missionaries in Central Africa in the second half of the Twentieth Century. The thesis critically examined the personal and cultural problems encountered by women missionaries during their time in Africa and on returning home, the adequacy and nature of the support they received, and the role played by their sense of calling, both in sustaining and in burdening them. Ramola Ramtohul's thesis in the African Gender Institute was tittled Women and Politics in a Plural Society: The case of Mauritius.
"UCT aspires to become a premier academic meeting point between South Africa, the rest of Africa and the world. Taking advantage of expanding global networks and our distinct vantage point in Africa, we are committed, through innovative research and scholarship, to grapple with the key issues of our natural and social worlds." - UCT Mission Statement.
---
This work is licensed under a Creative Commons Attribution-NoDerivatives 4.0 International License.
Please view the republishing articles page for more information.
---