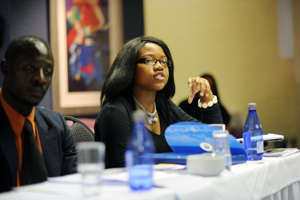 Discuss meaning: SRC president Amanda Ngwenya.
At a recent Students' Representative Council-organised panel discussion on Afropolitanism, one of the most commonly-voiced questions from those attending was: "How African, and how cosmopolitan, is Afropolitanism?", says SRC President Amanda Ngwenya.
This discussion, which took place in Graça Machel Hall in April, was one of a series of discussions around the broad title To whom does UCT belong? This featured speakers Professor Thandabantu Nhlapo (deputy vice-chancellor) and Professor Jane Bennett, head of the African Gender Institute who engaged in a lively exchange of ideas with a mainly student audience.
Ngwenya says that in crystallising the SRC and the student body's understanding of Afropolitanism, the SRC's initial approach had been to invite discussion on its meaning.
"One thing became certain from these discussions - Afropolitanism means different things to different students."
She said although the SRC sees Afropolitanism as a practical strategic goal, which is well-outlined in the university's concept document on its strategic goals, it is often a difficult idea to pin down conceptually.
"There are questions that need to be answered before a complete understanding of the concept can be grasped. Basic questions, such as what is African knowledge? What makes knowledge African? Is this a question of principles or is it merely one of geographical location? Is this knowledge unique to Africa? Is this a requirement to finding 'African solutions' to 'African problems'? What is the importance of this knowledge in relation to other knowledge? Is it a rejection of 'other' knowledge or merely an exploration of what other knowledge there could be? And so on and so on."
Ngwenya says that while the SRC is clear on how and why the university is positioning itself, its Afropolitan stance does not yet directly affect the SRC operationally.
"It does not mean that our work is necessarily focused on Africa, but it does mean that we are aware of the trajectory the university is following, and where we can endeavour to play our role in furthering that mission when we engage with universities around the continent."
She added: "The idea of Afropolitanism also carries the danger of becoming an issue of sentiment instead of logical reason. On a leadership level one must be aware of that."
She believes that explicit outcomes from this Afropolitan thrust, such as research, the interaction with African scholars and a focus on the African context, can only be beneficial.
However, she cautions that the more 'covert effects' could be problematic.
"It would be a pity if the study of Africa reinforced a sense of victimhood instead of optimism and agency. Further, it would be problematic if the study of Africa enforced a sense of nationalism, which could lead to a false sense of justness of something just because it is your 'own', and a suspicion of the 'other' just because it is foreign."
Ngwenya said she believed UCT generally provided a welcoming environment to students from the rest of Africa and elsewhere in the world and said this was supported judging by her interaction with international students and IAPO.
"However, institutionally more could be done to integrate international student activities with those of local students, especially during the orientation period.
"Beyond that I don't see it as the university's role to engineer social interactions between students. People must organise themselves as they wish. But the message from UCT is that it encourages interaction, and - where it is the organiser of an event - UCT should do its utmost to facilitate this interaction."
Discussing the role and meaning of Africa Day, Ngwenya says there is no easy answer.
"I think what being African is, is contested. Is it purely a matter of birthplace, or of being a citizen of an African country? Or is it a matter of possessing a concern for Africa? For some, being African is deeply personal and a matter of identity."
She voices concern about the sometimes superficial arguments mooted about African values, saying she is not convinced that Africa has a unique set of values.
"For example, I have a set of values and principles I identify with, but I am not sure how many of those, if any, can be called 'African' I am not sure they need to be. But if they were, I would want to advance more than the usual response of Ubuntu. It's an altogether slippery concept and often used because of a lack of other knowledge about African values. If I said we need to value Ubuntu I think it would be rhetorical and not persuasive.
"I think the African continent is a beautiful place that few have the opportunity to fully explore. Many think of Africa from just an arts and culture point of view, but there are also new ideas and innovation coming from the African continent.
"It also is home to a mix of cultures and languages, so there is much to enjoy and learn from this continent."
---
This work is licensed under a Creative Commons Attribution-NoDerivatives 4.0 International License.
Please view the republishing articles page for more information.
---