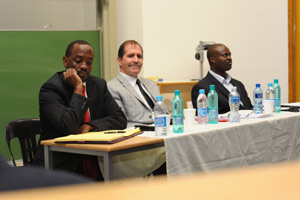 Legal wise: Advocate Menzi Simelane, Prof Wouter de Vos and Advocate Aifheli Tshivhase at a panel discussion on the disbandment of the Scorpions and the rise of the Hawks.
The Constitutional Court ruling that part of the legislation enabling the disbanding of the Scorpions and the establishment of the Hawks was constitutionally invalid could reflect a lack of trust by some judges towards the government executive, said Advocate Menzi Simelane, director of the National Prosecution Authority.
He was speaking at a recent panel discussion, Catching the Scorpions' Tail, organised by the UCT Black Law Student's Forum.
The Concourt recently ruled that the legislation was constitutionally invalid because it did not provide enough protection against political influence for the Hawks, a specialist investigative unit within the South African Police Service.
Simelane took the audience through the reasons for and processes followed to establish the Scorpions, and why he agreed with the government's view that the unit's formation was unconstitutional. This had led to its disbandment.
On the independence of the Hawks, Simelane said that it shouldn't matter in which department the unit is located and that its success should be measured against its achievements.
Co-panellist Professor Wouter de Vos of the Department of Private Law at UCT noted that the judges had analysed objectively the framework within which the Hawks operate, before concluding that the unit lacked the required degree of independence. He said that it was speculative to suggest that the judgement had mirrored distrust of the government executive.
---
This work is licensed under a Creative Commons Attribution-NoDerivatives 4.0 International License.
Please view the republishing articles page for more information.
---