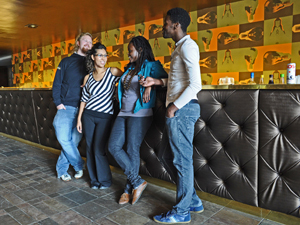 Fine dining: The new-look facilities in the Baxter Theatre Centre.
The wait is over. The Baxter Theatre Centre's new restaurant, bars and catering facilities, operated by the forum company, are now open and operational. The old theatregoers' haunt now boasts three refurbished levels: elegant bar, sophisticated restaurant and trendy loft-style bar named Play, each offering new culinary experiences in a sleek setting with modern retro decor. The upgrade incorporates the new Wi-Fi lounge (formerly the gallery space) on the upper level, next to the Golden Arrow Studio, which was completed in December last year.
A further and welcome addition to the three existing theatres is the versatile 200-seater, Flipside at the Baxter, situated backstage of the main Theatre stage. Another critical change was to create a rehearsal room in what was the Studio foyer, thus creating a working environment for the artists while bringing the process closer to the public.
This is the first major structural renovation that the Baxter Theatre Centre has undergone since opening its doors 34 years ago.
Renovations began in earnest in February this year to overhaul the main restaurant on the second level, the bar, snacks and coffee station in the main downstairs foyer, and the bar on the upper level.
This upgrade and new partnership - with the forum company - is in line with the vision of Baxter CEO and director, Lara Foot, to make the theatre complex a vibrant cultural and culinary hub during the day and at night.
"We would like to create an even more dynamic and accessible experience for our audiences, patrons, artists, communities, corporates, visitors and the public at large," says Foot. "There should be a hive of activity inside our auditoriums, as well as in our foyers and outside spaces. So whether it is for a show, eating out, even a meeting or just drinks, we would like the Baxter to become an inspiring and heart-warming experience to all who visit us."
To book for Act restaurant or Play bar, call 021 685 3888 or visit the website at www.theforum.co.za.
---
This work is licensed under a Creative Commons Attribution-NoDerivatives 4.0 International License.
Please view the republishing articles page for more information.
---