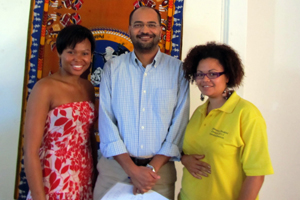 Allegiance: Chair of the Faculty of Commerce's transformation committee, Prof Haroon Bhorat (middle), at the launch of the Transformation Committee Seminar Series, with Tinyiko Ngwenya (left) and Yvette Adams, members of the Commerce Students Council.
Why are academics stereotyped as mad, dishevelled, and unacquainted with hair stylists? This question by the Dean of the Faculty of Commerce, Professor Don Ross, served as the entrée to the new Transformation Committee Seminar Series, launched on 23 February. At the launch Ross addressed the topic, Why would a recently-empowered South African want to be an academic?
He said the perception existed that the path to academia is not always a lucrative one, so the challenge was to convince young people to become academics by the lure of offering them a relatively high degree of freedom compared to the dreary treadmill of the corporate world. This freedom is socially encoded through the caricature of extreme eccentricity.
Ross, who was addressing delegates in the African Studies Gallery under the banner Let's Talk Transformation, said the attraction of academia was well established elsewhere in the world.
"But in South Africa there are two major obstacles. One is that many students from disadvantaged backgrounds have families whose expectations and needs for a quick return on their human capital investment are relatively urgent. Another is that the trade-off is likely to be invisible to most students and their families.
"So we shouldn't be surprised that we struggle - especially in Commerce - to attract people from formerly marginalised communities into postgraduate study. It would be astonishing if we didn't find this a struggle."
Ross outlined the problems he foresaw for universities around the world, and the unique challenges - and opportunities - faced by the academy in Africa.
It is possible that a new, distinctively African model of the academic lifestyle will evolve, Ross said, "but only if Africa experiences an Indian-style wave of excitement about our own development, and if academic research is widely seen to play a significant role in this wave."
---
This work is licensed under a Creative Commons Attribution-NoDerivatives 4.0 International License.
Please view the republishing articles page for more information.
---