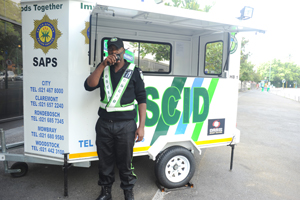 Warfront: GSCID security officer Lulamile Goba next to one of the Mobile Security Kiosks.
It's understandable that people often take the Mobile Security Kiosks for police centres. They are branded with a South African Police logo, and have been set up specifically to take the fight against crime to new levels.
Donated by UCT's Properties and Services Department, the three kiosks are operated by the
UCT is also a founder member and donor to the Groote Schuur Community Improvement District (GSCID) which aims to deal with neighbourhood crime, grime, transport and housing problems that are faced by students, residents and businesses in the area.
. They were set up late last year to provide visible security in areas marked by police as "crime hotspots".
"These are areas where police are concerned about the high number of muggings and the abuse of liquor and drugs," explained Charl Brooks, GSCID's operations manager.
UCT is represented on the board of GSCID, which deals with security, cleansing and social welfare issues in Observatory, Mowbray, Rondebosch and Newlands. While the university is fairly safe, the periphery has proved to be problematic.
These kiosks provided an additional weapon in the fight against crime.
"Crime is not always committed in the same spots," Brooks noted. "The kiosk makes the whole operation much easier as they can be deployed to different places at different times."
The kiosks are fitted with emergency equipment, and the GSCID works closely with UCT's Campus Protection Services and SAPS. Currently, they have been set up in Anzio Road next to the Medical School, near the First National Bank in Mowbray, and in the Riverside Shopping Mall in Rondebosch.
A number of cases have been reported and several arrests have been made thanks to the kiosks. But they have also been helpful as information centres, especially to staff and students who hail from outside Cape Town. Brooks encouraged the UCT community to use the kiosks and the marked GSCID vehicles in time of need.
---
This work is licensed under a Creative Commons Attribution-NoDerivatives 4.0 International License.
Please view the republishing articles page for more information.
---