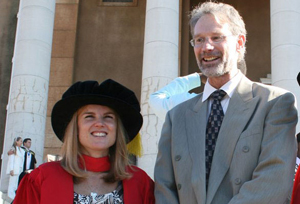 Dr Cally Ardington with Prof Murray Leibbrandt.
Concern for orphans has led to a duo of awards for Dr Cally Ardington, a senior research officer in the Southern Africa Labour and Development Research Unit (SALDRU) in the Faculty of Commerce.
Her doctorate on parental death and schooling in South Africa was judged the best PhD in the country, based on an evaluation by the Economics Society of South Africa (ESSA). Ardington's postdoctoral research has also won acclaim and a five-year grant from the Global Research Initiative Programme for New Foreign Investigators of the United States National Institutes of Health.
Commerce dean professor Don Ross said: "This is the second year in a row that the School of Economics has produced the best PhD in South Africa, according to ESSA. Last year Dr Tia Linda Zuze clinched the title. This speaks to the calibre of research undertaken in the Faculty of Commerce, and particularly to the leadership of the supervisor on both doctorates, Professor Murray Leibbrandt."
Ardington's doctoral research examined the impact of the great losses suffered by AIDS orphans and their potential to succeed in life.
She wrote: "The HIV/AIDS pandemic is leaving in its wake a generation of children who have lost parents, care-givers, and other loved ones. One of the lasting effects of the crisis will be the impact it is having on the education of the generation of children now of school-going age. My thesis examined the extent to which South African children who have experienced parental loss are vulnerable to poorer educational outcomes."
She also explored the fears that extended families were no longer effective as safety nets for AIDS orphans. She found that the death of the mother, in particular, had the greatest impact on the schooling of children, and looked at the effects of this loss on broader society.
"I investigated the longer-run impact of parental loss in childhood on human capital formation by focusing on the completion of secondary school by early adulthood. These results suggest that parental death will reduce the ultimate human capital attainment of the child."
Building on the solid base of her doctorate, Ardington will now broaden the scope of her research to the links between poor health in childhood and the legacy of poverty.
---
This work is licensed under a Creative Commons Attribution-NoDerivatives 4.0 International License.
Please view the republishing articles page for more information.
---