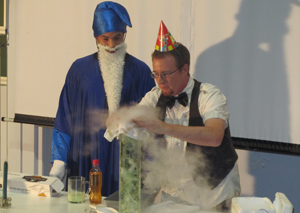 Whizz, bang, pop: Postgraduate students conjure up slime and chemical tricks for their young audience.
Gandalf the wizard, Frodo Baggins and Gollum, the villain of JRR Tolkien's The Lord of the Rings, made special appearances at this year's Jack Elsworth chemistry lecture, delighting the audience of young chemistry enthusiasts.
For some years the Department of Chemistry has teamed up with the local branch of the Royal Society of Chemistry to put on a public lecture honouring the former UCT academic, who used to give an annual lecture to show school children the exciting chemical world they inhabit.
In recent years, the department's postgraduate students have taken over the event, which attracts around 250 school pupils as well as their parents, many of whom can recall seeing Jack Elsworth in action. This year they put together an exciting evening of bangs, whistles and changing colours to educate and entertain, all within the theme Lord of the Benzene Rings.
Gandalf the wizard sent off his two Hobbits, Sam and Frodo, to Mordorfontein to drop the dangerous Benzene into a volcano. Along the way they met up with elves, the rascal Gollum, and others. There were sizzling displays of light, a giant bubble bath for the queen, a frozen hand falling off, erupting volcanoes spewing bread rolls, and the construction of a sword and a lamp - all made by combining chemicals.
It was remarked that several of the postgrad students should give some thought to careers on the stage; the theatrics and chemical wizardry kept the audience spellbound for an hour!
All proceeds from the show will go towards the establishment of the new Science Centre in Cape Town.
---
This work is licensed under a Creative Commons Attribution-NoDerivatives 4.0 International License.
Please view the republishing articles page for more information.
---