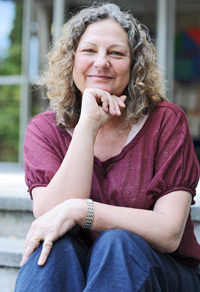 Double whammy: Assoc Prof Melissa Steyn is the recipient of this year's HELTASA/CHE National Excellence in Teaching and Learning Award and the NCA Outstanding Scholarship Award.
November was a busy month for Associate Professor Melissa Steyn (Director of Intercultural and Diversity Studies of Southern Africa, better known as iNCUDISA), as she won two prestigious scholarship awards for two different areas of academic performance.
Steyn's first honour came from the National Communication Association in the US. A research paper co-authored with Professor Jolanta Drzewiecka of Washington State University in the US took the association's Outstanding Scholarship Award for the top article in International and Intercultural Communication for 2009.
Their paper, Discourses of Exoneration in Intercultural Translation: Polish immigrants in South Africa, examines the translations in identity of Polish immigrants, first with their integration into white South Africa during apartheid, and then again as the country shifted from apartheid to a free democracy.
Steyn's second win was the HELTASA/CHE National Excellence in Teaching and Learning Award for 2010 (HELTASA is the Higher Education Learning and Teaching Association of Southern Africa, and CHE is the Council of Higher Education).
Four awardees are selected from nominations submitted through the Vice-Chancellors' Offices at Higher Education Institutions. The awards recognise outstanding leadership and practice in teaching. One of the initiatives Steyn was recognised for is her spearheading of diversity studies at UCT, as well as her approach to teaching, which she views as an active engagement between student and teacher.
"I am lucky in that the substantive material I teach, the methods I employ and the outcome I work towards - intellectually informed, critically thinking, diversity-literate graduates - all dovetail very closely. It's all very satisfying.
"I try to work to establish a co-operative ethos in the classroom, because I believe everyone has a need to feel affirmed, and students think at their best when they feel actively supported."
---
This work is licensed under a Creative Commons Attribution-NoDerivatives 4.0 International License.
Please view the republishing articles page for more information.
---