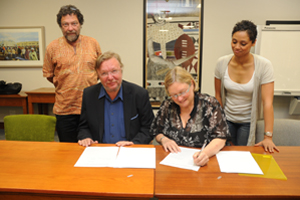 In partnership: DVC Prof Jo Beall and Prof Hermann Schwengel of Freiburg University sign a memorandum of understanding. Also at the signing were UCT's Prof Ari Sitas and student Merlinda Abrahams.
UCT has joined forces with the Albert-Ludwigs Universtity of Freiburg in Germany to run the Global Studies Programme, a master's programme that will include training on three different continents.
On 29 November, deputy vice-chancellor Professor Jo Beall and Professor Hermann Schwengel, vice-chancellor of Freiburg, signed a Memorandum of Understanding to cement the new partnership between the two institutions.
Beall said the programme is both unique and exciting as it exposes students to global studies. It is important for UCT as it puts the university's strategic goal of preparing students for the global world into practice, she added.
The programme's two-year curriculum comprises of sociology, political sciences, anthropology and geography courses, and is conducted jointly by Freiburg, UCT, the Latin American School of Social Sciences (FLACSO) in Buenos Aires, Chulalongkorn University in Bangkok, and Jawaharlal Nehru University in New Delhi.
All students in the programme start their journeys at Freiburg, then hop to either UCT or FLASCO, and then do their third semester at either Chulalongkorn or Jawaharlal Nehru.
The programme was established in 2002, and UCT is taking part for the first time. It is administered by UCT's International Academic Programmes Office, and two students, Merlinda Abrahams and Ichumile Gqada, have signed up. Abrahams, who has already completed her semester at Freiburg, noted she had been able to broaden her horizons by being exposed to different worldviews and perspectives.
"The programme teaches you that we are all connected, and we all influence each other in a variety of ways," she said.
Gqada added that she got different perspectives of the effect of globalisation at macro and micro levels.
"What I learnt from this exchange was something I could never be taught in any textbook," she added.
---
This work is licensed under a Creative Commons Attribution-NoDerivatives 4.0 International License.
Please view the republishing articles page for more information.
---