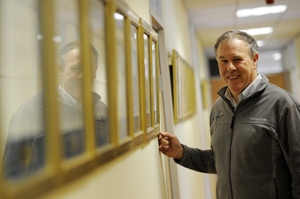 The pen is mighty: Prof Tim Noakes with some of the journal articles that have earned him and ESSM 10 000 citations.
One of the first things that should catch the eye of any new student who enters the offices of the Medical Research Council/UCT Research Unit for Exercise Science and Sports Medicine (ESSM) is the rows of beautifully framed articles lining the unit's walls.
The student will soon learn that not just any old article makes it onto this wall of fame. Only those that have scored 50 or more citations in peer-reviewed journals are worthy of that privilege.
Yet there are many of them. This would explain why Professor Tim Noakes, UCT's Discovery Health Professor of Exercise and Sports Medicine, has just racked up 10 000 citations, according to the citations-tracking database Web of Knowledge.
Noakes also boasts an h-index - a measure of the productivity and impact of the published work of a scientist or scholar - of 53. This means that, for now, 53 of his articles have each been cited at least 53 times.
That best illustrates the message that Noakes is trying to pass on to students at ESSM.
"It doesn't matter how good an article is; if it doesn't get cited, it's not going to be very influential," he says.
The citation count is a milestone of some note. At UCT, for example, only a Noakes mentor, Professor Lionel Opie of UCT's Hatter Institute for Cardiovascular Research, has cleared 10 000 citations - 16 000, actually.
(This according to a cursory Monday Paper/UCT Libraries search on Web of Knowledge, so if anyone else has 10 000 citations or more, or a similar or higher h-index, do let us know!)
Noakes takes pride in ESSM's shrine to scholarly plenty, but it's not a mere display of vanity. For one thing, it's his way of throwing down the gauntlet to the next generation of ESSM scholars, and teaching them to take pride in the achievements of others (of course, all the articles were written with colleagues and students).
"These articles represent what we are about. There is a saying in sport that if you don't measure it, you cannot manage it. This is one way we can measure whether or not we are reaching our goals."
And as an aside, the occasion also allows Noakes to settle an old score.
"When we started Sports Science at UCT in 1981, we were told we were 'Mickey Mouse'," he says. "So I said, 'We'll show you guys - we'll out-publish all of you.'"
Consider this mission accomplished.
---
This work is licensed under a Creative Commons Attribution-NoDerivatives 4.0 International License.
Please view the republishing articles page for more information.
---