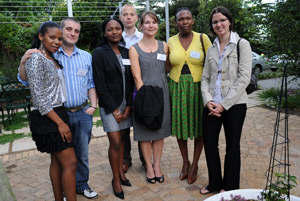 Joining forces: At the event for Claude Leon Foundation Postdoctoral Fellows were (from left) Siyasisanda Kleinbooi, UCT fellow Dr Julien Larena, Nomphelo Kayi of Stellenbosch University, fellow Dr Per Sundin of UCT, fellow Dr Julia Meitz of Stellenbosch, Sindi Kayi of Stellenbosch, and fellow Dr Lidia Auret of Stellenbosch.
UCT vice-chancellor Dr Max Price hosted the first alumni gathering of the Claude Leon Foundation Postdoctoral Fellows at Glenara on Friday 29 October.
The fellows - UCT, Stellenbosch University and University of the Western Cape researchers who have been recognised for their academic achievements and their potential to train the next generation of South African researchers - took the opportunity to meet each other as well as representatives (including the chairperson, William Frankel) from the Claude Leon Foundation, the charitable trust that awards the fellowships.
The two-year Claude Leon Postdoctoral Fellowships count among the most prestigious and generous in the country. The foundation has 67 postdoctoral research fellows on its books at the moment, not counting the 2011 recipients. In 2010 alone, the foundation injected over R11 million into the programme, with a further R15 million earmarked for 2011, reported Frankel at the event.
Now in its thirteenth year, the Postdoctoral Fellowship Award programme builds research capacity at South African universities, specifically in the faculties of science, engineering and the medical sciences, by making awards to both South African and foreign postdoctoral scientists. This encourages them to increase the volume and quality of research output, transfer their technical skills and generally enhance the research culture.
The Claude Leon Foundation is responsible for approximately 30% of all postdoctoral research fellowships awarded in South Africa - more than any other one donor.
"Without exception, you are men and women of enormous intellect," said Frankel, grandson of founder Claude Leon (1884-1972), whose bequest underpins the foundation's work. "We as trustees are hugely impressed by what we hear of the research that is being undertaken."
The value of the fellowships, driving the work of a critical segment of the research community, cannot be underestimated, added Price.
"Most of the universities in the country have not recognised the importance of postdoctoral fellowships as the stepping stone from doctoral studies to academia, and also as the most important and prolific engine of research in universities."
The foundation has supported UCT for almost 30 years, donating more than R30 million. Other projects include merit awards for lecturers, the Claude Leon Foundation Chair in Constitutional Governance, and the first Claude Leon lecture at UCT (in 2010).
---
This work is licensed under a Creative Commons Attribution-NoDerivatives 4.0 International License.
Please view the republishing articles page for more information.
---