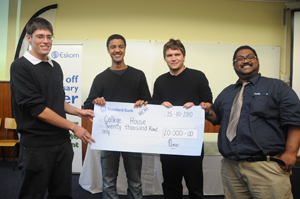 Winning team: Richard Parker of the GCI (left) and Riyaad Omer of Eskom (right) flank Michael Cole and Phillip Von Platen of College House at the GCI Backsberg Sustainability Awards.
Environmental campaigns tend to focus on awareness and action and ignore a series of internal stages where change towards sustainability can be blocked, according to environmental sustainability consultant Dr Sandra Rippon.
At the 2010 Green Campus Initiative (GCI) Backsberg Sustainability Awards in October, Rippon said change does not happen at once but in stages. In these stages - pre-contemplation, contemplation, planning, action and maintenance - sometimes people do not know what to do, are ambivalent and complacent, and can easily be discouraged.
To deal with possible hurdles, Rippon suggested that the GCI should find tools for creating forums in which people can talk.
"You must create a listening space for people to express their hopes and concerns, and that will cultivate the motivation needed to work through ambivalence and resistance," Rippon said.
The awards, given for the first time since GCI's inception three years ago, are an important part of the change cycle, and celebrate the maintenance stage of the university sustainability campaign, Rippon added.
Outgoing GCI chairperson Johanna Kallen noted that the awards are aimed at recognising the "great work" done by staff and students to make UCT more sustainable. The GCI hopes that the awards will inspire future actions, added Kallen.
At the event, College House was awarded the Eskom Energy Challenge prize for residences, the Professional Communication Unit received the Backsberg Group Sustainability Award, Dr Richard Hill of the Department of Environmental and Geographical Science was honoured with the Backsberg Staff Sustainability Award, and 2009/2010 Students' Representative Council member Erik De Ridder received the Backsberg Student Sustainability Award.
---
This work is licensed under a Creative Commons Attribution-NoDerivatives 4.0 International License.
Please view the republishing articles page for more information.
---