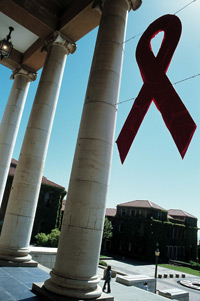 A paper by four UCT scholars has been named as the most cited clinical-sciences article, for 2009, to appear in the journal AIDS, the official journal of the International AIDS Society.
The four - Honorary Associate Professor Stephen Lawn, Associate Professor Landon Myer, Associate Professor Linda-Gail Bekker and Professor Robin Wood, all linked with the Institute of Infectious Disease and Infectious Medicine - were recently informed about the award, officially announced at the XVIII International AIDS Conference in Vienna in July. Their winning paper was titled Tuberculosis-associated immune reconstitution disease: Incidence, risk factors and impact in an antiretroviral treatment service in South Africa, and appeared in AIDS in January 2007.
In the article, the authors wrote about the treatment of patients with both HIV and tuberculosis at a community-based ART service in Gugulethu, Cape Town. Their study described how HIV-infected patients with very low blood counts of CD4 cells - the T-helper cells that are essential for immune function - and who start ART during the early stages of treatment for TB, could develop what's known as immune reconstitution disease (IRD).
As ART improves the CD4 count, it amplifies the immune system's response to the TB infection, worsening the symptoms and clinical features of the tuberculosis. Fortunately, mortality risk from IRD was low.
At last count on the Web of Science database, the paper had earned 86 citations since 2007, with a high of 35 citations in 2009. In Google Scholar, the paper has a current total of 129 citations.
"As a researcher, you always hope that your work is making a difference," says Lawn. "And the fact that your work is highly cited suggests that it is of relevance in the context of this terrible epidemic."
The researchers have donated the US$500 award towards the Hannan Crusaid ART Clinic in Gugulethu where the research work was done.
---
This work is licensed under a Creative Commons Attribution-NoDerivatives 4.0 International License.
Please view the republishing articles page for more information.
---