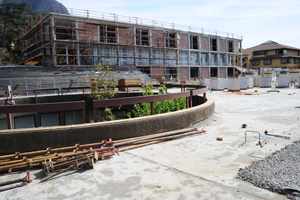 Brick by brick: The new Student Administration Building going up on middle campus.
Clement weather and few administrative delays mean that building work on UCT's multi-million-rand capital-expenditure projects has moved along nicely on the university's middle campus, reports the Properties and Services Department. And the opening salvo - that of a wrecking ball - will soon be fired on a new wing for the Departments of Civil Engineering and Chemical Engineering at the back of the Snape Building. Here's a bricks-and-mortar snapshot:
The new Student Affairs building on middle campus - perched above the new Economics Building - is on course for completion, scheduled for the end of November this year - 26 November, to be exact. Occupation of the building is set to begin in early December.
Works completion on the new School of Economics Building is scheduled for 7 April 2011; meaning the builders will hand the building over to UCT on 7 April, and for all intents and purposes, people can start moving in the next day. There will be numerous naming opportunities for offices, laboratories and rooms inside the building.
Another big investment will be made in a new building on the south side of the Chemical Engineering Building, at the back of the Snape Building. This building will house the Department of Civil Engineering, as well as several research groups for the still-growing Department of Chemical Engineering. Demolition of the civil engineering laboratories is scheduled to start on 17 November 2010, with preparation work for this due to start on 29 October. Temporary workshops for the Department of Civil Engineering will be set up at the Maintenance Building, towards the borders of upper campus. Construction work on the building will start after the June 2011 exams.
Work on Obz Square, as the 6 000m2, R485-million residence in Observatory is provisionally known, is going according to plan. Completion is scheduled for the end of 2011.
In addition, Properties and Services is doing major maintenance around campus, notably on the Computer Science Building and the section recently vacated by the Information and Communication Technology Services.
---
This work is licensed under a Creative Commons Attribution-NoDerivatives 4.0 International License.
Please view the republishing articles page for more information.
---