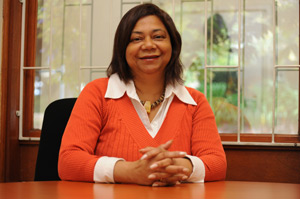 Human rights veteran: Glenda Wildschut, recently appointed director of UCT's Transformation Services.
The measure of your integrity is how you care for the most vulnerable.
This is the philosophy of human rights advocacy veteran Glenda Wildschut, recently appointed director of UCT's Transformation Services. Reporting to deputy vice-chancellor Professor Crain Soudien, who holds the transformation portfolio, Wildschut is responsible for transformation activities, events and interventions at the university, from concept to execution.
Appointed by former president Nelson Mandela to serve as a commissioner on the Truth and Reconciliation Commission in 1995, Wildschut's human rights activism dates back to the early 1980s. She worked with political prisoners, their families, exiles and orphaned returnee children in South Africa and Namibia, and pioneered, together with other health workers, the establishment of a trauma centre for violence and torture survivors - the first centre of its kind in the country.
Wildschut has also worked with the United Nations' World Health Organisation, the World Council of Churches and the Desmond Tutu Peace Centre, as well as many NGOs.
Operating in tandem with UCT's Discrimination and Harassment Office (aka DISCHO), HIV/AIDS Coordination - UCT (aka HAICU) and the Disability Unit, Wildschut's long list of tasks includes conducting surveys, promoting transformation in UCT's structures, forming partnerships, managing UCT's employment equity plan and providing a transformation advisory service.
"Unless we confront our past and deal with our memories, we will be unable to move ahead into a future free of hatred and revenge," says Wildschut. "If we don't deal with negative emotions they will dominate all that we do and permeate every aspect of our lives.
"Thankfully, there are many who realise the real power of letting go of these destructive emotions and who take positive steps to heal the memories and face the tasks of embracing those things that celebrate life and make us fully human."
---
This work is licensed under a Creative Commons Attribution-NoDerivatives 4.0 International License.
Please view the republishing articles page for more information.
---