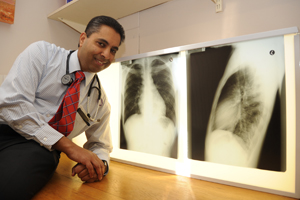 Treatment dilemma: Patients with extensively drug-resistant (XDR) tuberculosis have poor treatment outcomes, Assoc Prof Keertan Dheda wrote in two recent articles in The Lancet focusing on drug-resistant TB globally and in the developing world.
The controversial question of whether or not to incarcerate patients with drug-resistant tuberculosis came under the spotlight at a workshop held at the Faculty of Health Sciences from 3 to 5 September.
Workshop participants heard from a number of experts that valid medical concerns about risk to the community had to be weighed up against the ethical and human rights of patients.
One of the organisers of the event, Associate Professor Keertan Dheda, wrote in two recent articles in The Lancet that patients with extensively drug-resistant (XDR) tuberculosis have poor treatment outcomes.
"Often, these patients have high-grade resistance, are not surgical candidates, and have received 12 months of inpatient therapy but continue to have positive cultures," reads one excerpt. "Among these patients, acute ethical dilemmas arise. Should they be discharged into their communities? If so, should treatment be suspended, to prevent further acquisition of resistance? Should they be isolated from society; to whom they pose a threat?"
He writes that discharging infectious and incurable patients back into the community might be criticised, "but are there any alternative options in resource-poor settings?"
"Although incarceration of patients who do not comply with treatment has been used in countries such as the US, resource-poor countries often have an inadequate legal framework and no suitable facilities to deal with such patients."
Dheda says that there is an "urgent need" to develop better drugs to treat XDR-TB.
"New diagnostic algorithms must be developed, ensuring that everyone is tested for drug resistance."
Furthermore, there has been a sharp increase in the number of health care workers who have been diagnosed with XDR-TB, and Dheda recommends that all health care workers with suspected TB be given rapid MDR and XDR-TB tests, to expedite their treatment.
Law expert and Research Fellow at UNISA, Professor Christa van Wyk, told the workshop that If a person was diagnosed with drug-resistant TB and refused voluntary intervention, a health care provider or head of a health establishment could apply for a court order to compel such a person to be medically examined, admitted to a health establishment, treated and isolated.
Van Wyk told the workshop the head physician of the department in which the person was isolated was authorised to annul the decision as soon as the conditions for mandatory action were no longer present, or the person agreed to voluntary interventions
The courts, she pointed out, were already overburdened.
---
This work is licensed under a Creative Commons Attribution-NoDerivatives 4.0 International License.
Please view the republishing articles page for more information.
---