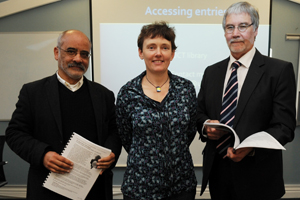 Rare knowledge: Attending the the Sawyer/PERC Contested Ecologies Database launch were (from left) DVC Prof Crain Soudien, Dr Lesley Green and DVC Prof Danie Visser.
The latest contribution to UCT's Afropolitan vision is a new database of ecological knowledge, launched on 30 August.
The Sawyer/Programme for the Enhancement of Research Capacity (PERC) Contested Ecologies Database makes available neglected, dispersed and rare literature that offers alternative perspectives on ecology.
Comprising over 200 articles on contestations over knowledge from scholars in the global South (specifically Africa, Asia and Latin America), the database was produced by Dr Lesley Green, co-ordinator of the Sawyer Seminar Series, and a small team of researchers in UCT's Department of Social Anthropology.
"The project began when we needed to access ongoing debates about knowledge for the Sawyer Seminar Knowledges, Ways of Knowing and the Post-Colonial University," explains Green. "It was incredibly slow going using existing databases. Many of the articles we needed were published in journals we didn't have, and a number of authors were largely unknown and hard to find on Google."
But while a fellow at Harvard in 2005, Green had accumulated a "huge amount" of material that needed to be organised. Researchers Jess Auerbach, Jennifer Grant and Sven Ragaller helped Green build the database from this material.
"It's a small beginning, so there are some gaps," says Green, "but it is something that we hope to keep updating as we go. I hope that colleagues who find it useful will reciprocate by loading similar articles they find of interest so we can strengthen scholarly networks in the south, where there are some fascinating debates going on."
The Sawyer/PERC Contested Ecologies Database is available on the Vula website. Access to the site requires a password, which can be obtained from Sven Ragaller.
---
This work is licensed under a Creative Commons Attribution-NoDerivatives 4.0 International License.
Please view the republishing articles page for more information.
---