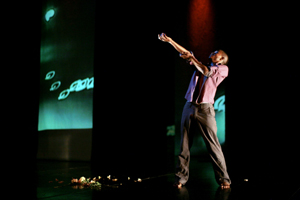 Art shift: Dada Masilo performs in Deep Night
Head of Wits Dramatic Art and former UCT drama lecturer, Warren Nebe, is back at UCT this week curating a three-day educational arts festival that has a specific focus on HIV/AIDS.
The Drama for Life Festival, titled Sex Actually, will be held on Hiddingh Campus until Saturday Sept 11 and comprises 28 performances, workshops and installations by some of the country's top theatre and dance-makers and drama-in-education specialists.
The festival's aim is to demonstrate how perceptions and judgments about HIV and AIDS can be challenged on both a personal and community level, and how these shifts can be achieved using the performing arts.
UCT staff and students will experience a selection of provocative performing arts pieces and workshops that grapple with sexual behavior, stigma and other pressing issues related to HIV and AIDS.
A drama therapist, director and former Fulbright Scholar, Nebe is passionate about the role of arts in education and its ability to initiate discussion, shift attitudes and change behavior, especially with regard to sex, HIV and Aids.
"The focus has been primarily on conveying the medical facts, but very little of the education has looked at issues of soul and culture; the complexities of human relationships and the human factor."
He adds: "If you see the devastation of HIV/AIDS, how it changes communities, altering social structures and relationships, it is clear that art can play a critical role in re-building community cohesion, grappling with unimaginable loss and trauma, re-defining our identities, relationships and modes of intimacy. Arts have a huge role to play in fostering that culture."
The Drama for Life Festival takes place in several venues on Hiddingh Campus and features two highly acclaimed plays, Ncamisa! The Women and I Am Here, by well-known UCT alumnus, Peter Hayes, as well as a dance work Deep Night, featuring Standard Bank Young Artist Dada Masilo.
(Visit
dramaforlife
to see the full programme or email
Lesche Devis
for more information. Please note that some works carry age restrictions due to their provocative content.)
---
This work is licensed under a Creative Commons Attribution-NoDerivatives 4.0 International License.
Please view the republishing articles page for more information.
---