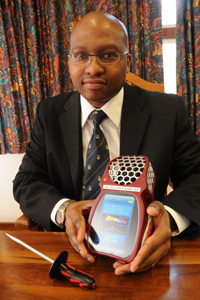 Crime science: Dr Sipho Mfolozi is the inventor of the prize-winning NecroChronometer.
A new device set to revolutionise how forensic pathologists measure a body's time of death at crime scenes is the brainchild of Dr Sipho Mfolozi of UCT's Division of Forensic Medicine.
The imaginatively named NecroChronometer - still in its alpha stage of development - took second place at the National Innovation Competition, an event held every two years by the Technology Innovation Agency and the Department of Science and Technology.
According to the competition's rules, the R200 000 cash prize will be divided between research funding and commercialising the device once complete.
Mfolozi explains that the NecroChronometer uses three tried-and-tested methods to calculate time of death, namely tympanic mambrane (in the ear) temperature, liver temperature and the concentration of potassium in the corpse's eye fluid. But the NecroChronometer's claim to innovation is that it combines all three methods, as well as factoring in climate and weather variables, such as wind speed and humidity, which affect the cooling rate of the corpse.
Looking like something out of a 1960s Star Trek episode, the NecroChronometer comprises three probes and a retro-futuristic handheld reader, which includes an anemometer for reading wind speed and a hygrometer for air humidity.
"It's only a static model, so it's still a bit more bulky than I would like," says Mfolozi.
Despite its appearance, the working model will be at one with technology. Bluetooth will wirelessly transmit data from the corpse's probes to the handheld device, and the NecroChronometer will be able to connect to the internet from anywhere on the planet to download weather history for the area.
"The plan is to combine all these factors to give the most accurate reading possible," says Mfolozi proudly.
But although with a patent pending. the device is yet to be tested. Mfolozi is confident that this next stage in the birthing of the NecroChronometer will be successful.
"There's nothing magical about it," he says modestly. "It's just science."
---
This work is licensed under a Creative Commons Attribution-NoDerivatives 4.0 International License.
Please view the republishing articles page for more information.
---