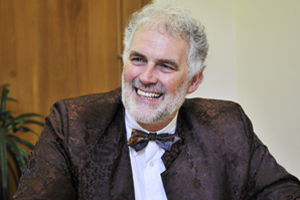 Professor Walter Baets
Change the way you think, change the world.
This is the philosophy behind Full Colour Thinking, a new three-day short-course offered by UCT's Graduate School of Business (GSB), designed to create inspiring leaders and boost innovation in South Africa.
The course is the brainchild of the GSB director, Professor Walter Baets.
"Globally, leaders are often criticised as inadequate, and we need only look at the recession to see that this argument has merit," says Baets. "So just teaching the fundamentals is just not enough."
The course is a platform for the GSB's new positioning, which aims to shake up future leaders' world view in order to and see themselves and others in a whole new light.
Baets says the managers need to get a breath of fresh air in the midst of what has been a troubling 18 months for many economies.
Offered by the GSB's executive education unit, the course is described as avant-garde in nature and at the cutting edge of management theory and practice - pushing beyond the status quo and introducing new approaches to leadership.
"Once managers have been taught to adjust their view to see more about themselves, their world, their stakeholders and their challenges, they can go on to create more innovative solutions," explains Baets.
"We are not saying, 'here are all the answers', but rather, 'here's how you innovate'. "It's a process that creates the ability to be creative, use diversity advantageously and tap into unlimited potential."
The Full Colour Thinking course runs from 1 to 3 September.
For further information email Alison or sms "Colour" and your email address to 31497.
---
This work is licensed under a Creative Commons Attribution-NoDerivatives 4.0 International License.
Please view the republishing articles page for more information.
---