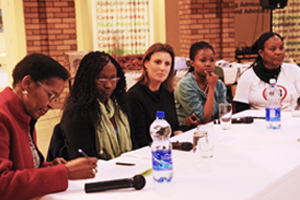 Lining up: Prof Pumla Gobodo-Madikizela, Rumbi Goredema, Samantha van Schalkwyk, Mpumi Tshabalala and Eunice Oyugi prepare to make their points.
As its title suggested, there was plenty to mull over at the 5 August panel discussion, Women's Struggles: From the political to the personal, the global and local, a UCT precursor to Women's Day on 9 August. But one theme surfaced regularly - the gap between those championing the feminist agenda in academia, and those who work "on the ground" in communities.
For the occasion, organiser and moderator, Professor Pumla Gobodo-Madikizela of UCT's Department of Psychology, had assembled two tiers of panellists, representing two more-or-less distinct generations. Representing the 'first-generation' were the "elders", speakers deputy vice-chancellor Professor Jo Beall; Professor Jennifer Fish of the Department of Women's Studies at Old Dominion University in the US; former Member of Parliament and now leader of the Coalition Against Trafficking in Women, Nozizwe Madlala-Routledge; and writer Dr Sindiwe Magona. As counterpoise, four younger speakers represented the 'second generation' - lecturer Rumbi Goredema of the Department of Sociology, and students Mpumi Tshabalala and Samantha van Schalkwyk.
Guest speaker was community activist Eunice Oyugi.
A score of topics were raised - the nature of feminism in Africa, why women's stories have to be told (they become data, suggested one audience member), the gap between policies and reality, and how gender-based violence connects women across cultures and continents, among others.
But speaker after speaker, along with members of the audience, would circle back on one issue - the divide between academics and activists, and between academia and activism. Or, in the words of one speaker, "the narrative of divisions".
"I'm seeing an interesting tension between the sphere of academia, structure, government, law and policy, and then the sphere of civil society," said law student Tshabalala. "I'm still very young, but I'm seriously at a point where I'm frustrated by the structures that are not offering the platform for this access, and my personal response is - wake up and do it."
---
This work is licensed under a Creative Commons Attribution-NoDerivatives 4.0 International License.
Please view the republishing articles page for more information.
---