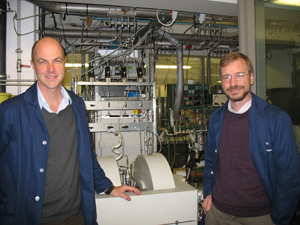 Inventive: Research team members (from left) Profs Michael Claeys and Eric van Steen.
A partnership between Sasol and UCT's Centre for Catalysis Research has yielded the invention of a device that will add great value to research in a variety of fields, including nano-technology.
The device, called a magnetometer, is fully computer-controlled and is the first of its kind in the world.
The magnetometer enables scientists to examine ferro-metallic catalysts in situ. Catalysts such as cobalt are used in the production of fuels and play a key role in terms of product performance.
The purpose of this area of research is to examine the physical changes that catalysts undergo during process situations which have an effect on catalyst performance. The magnetometer exploits the magnetic properties of these catalysts to obtain the required information.
The research team - Professors Michael Claeys and Eric van Steen of UCT, and Jan van de Loosdrecht and Kobus Visagie of Sasol Technology - filed a joint international application to patent this product of the long-standing collaboration between Sasol and UCT in the field of catalysis research.
The study team has already performed several experiments, which have produced a number of important conclusions.
---
This work is licensed under a Creative Commons Attribution-NoDerivatives 4.0 International License.
Please view the republishing articles page for more information.
---