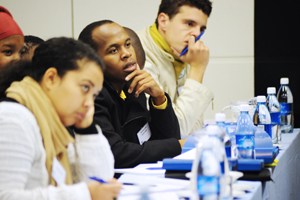 Learning leaders: Young students getting lessons on leadership.
"If what we are learning can't change what's happening outside, we are learning nothing."
This was the message from Moonira Khan, executive director of student affairs, in her keynote address to students at the opening of the week-long UCT Emerging Student Leaders Programme on 12 July.
The programme is aimed at enhancing leadership skills of UCT students, on the understanding that after graduation, they will be entrusted with leadership positions across all sectors of society. Central to the week is promoting the values of good citizenship, the culture of human rights, a sensitivity to the environment, and respect for diversity and difference.
Khan (pictured below) urged future leaders to work for the public good, to be accountable and to remain consistent, unbiased and unprejudiced, as future leaders ought to be. "In my generation, leaders were expected to be autocratic, but in the 21st century we've had to learn and join the party," Khan said.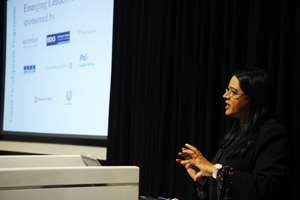 Khan noted that present-day leadership skills focussed on authentic discourse and the ability to adapt to a constantly changing code of ethics, based on the concept of human rights.
"Leaders of the past used punitive means to uphold policies valued by the few, based on ethical codes rooted in colonialism. Today, leaders are held accountable. Today, leaders are expected to apply fairness, respect divergent views and base their leadership ideals on their own personal sense of morality and justice."
---
This work is licensed under a Creative Commons Attribution-NoDerivatives 4.0 International License.
Please view the republishing articles page for more information.
---