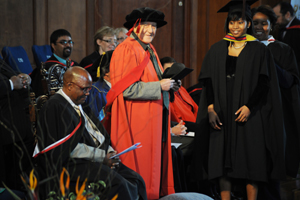 Collaborating: Health Minister Dr Aaron Motsoaledi (seated) and Prof Juan J Ceballos, acting chancellor of University of Villa Clara in Cuba, at a graduation of medical students at UCT.
Health Minister Dr Aaron Motsoaledi has urged medical graduates to be the "agents of change" and uphold a high moral and caring ethos to help South Africa turn around the ailing health care system.
At a graduation, at UCT on 7 July, of 40 medical students who were part of the South Africa-Cuba Health Cooperation Agreement, Motsoaledi described the current health care system as "expensive, destructive and unsustainable", saying the government was unapologetically trying to overhaul it.
The South Africa-Cuba training is one of its initiatives to do so. The programme began after 1994 as an attempt to address the dwindling number of doctors in the country, and as medical schools were not producing enough black graduates, in particular. Candidates for the programme are drawn from under-privileged communities, and undergo eight years of medical training in Cuba and locally, and graduates serve in the most under-resourced areas.
So far 246 students have graduated from the programme, and a further 388 are in training. Every South African university has an opportunity to host a graduation ceremony for qualifying students, and this year it was UCT's turn.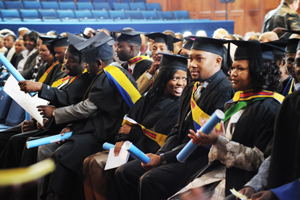 Motsoaledi told the graduates: "The fact that you have endured long periods of separation from your families in order to build a better future for yourselves and your country indicates your commitment to development, and I am confident that you will make your contribution to our public health system in as robust a way as possible."
UCT vice-chancellor, Dr Max Price, noted that the graduation represents a remarkable collaboration between the government and South African universities, and between the country's different medical institutions.
Price said the South Africa-Cuba training programme is a unique system to increase the number of medical graduates and to increase opportunities to students who want to study medicine.
Graduate Bongile Mabilane said her experience in the programme was "priceless and irreplaceable", and is committed to render quality health care service to everyone irrespective of class, colour or creed.
---
This work is licensed under a Creative Commons Attribution-NoDerivatives 4.0 International License.
Please view the republishing articles page for more information.
---