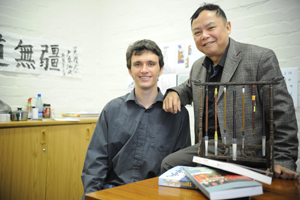 Collaboration: George Calder-Potts had a helping hand from Prof Qianlong Wu at the South African leg of the 9th Chinese Bridge Competition.
Two recent occasions gave a well-timed boost to the activities of the UCT Confucius Institute, set up with the Chinese Language Council International (or Hanban) in China to champion Chinese-language studies here.
The first was the appointment of Professor Qianlong Wu as the institute's deputy-director. Wu, from China's Sun Yat-sen University, UCT's partner university in its Confucius agreement, will be working with the Centre of Higher Education Development and the School of Languages and Literatures to set up a suite of non-credit and credit-bearing Chinese-language courses that will be launched here in 2011.
It's early days yet - Wu's spending most of his time dealing with infrastructural issues - but he got here in time to help a UCT student to a noteworthy achievement.
George Calder-Potts, a 24-year-old master's student on UCT's National Astrophysics and Space Science Programme, took one of the third places in the South African leg of the 9th Chinese Bridge Competition, held at Rhodes University in April. Here South African students vied for the two top spots that would take them to the competition's international grand final in China in July.
UCT and the Confucius Institute can't take too much credit for Calder-Potts' third place, although Wu, who attended, did assist him with his presentation, a reading from a self-penned play. Calder-Potts' interest was piqued by a high-school friend, and he's taught himself Chinese over the past five years with a selection of language guides and online programmes, as well as a year-long stay in China.
But the institute hopes Calder-Potts' infectious enthusiasm will convince other UCT students to sign up for Chinese courses.
"There's a lot of interest in China, and I think UCT entered into a Confucius agreement at the right time," says Wu. "How many students register for the courses will depend on how hard we push Chinese."
---
This work is licensed under a Creative Commons Attribution-NoDerivatives 4.0 International License.
Please view the republishing articles page for more information.
---