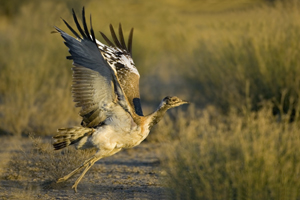 Ludwig's Bustard (Neotis ludwigii) is the largest endemic bustard of the Southern African region and, once airborne, is not very manoeuvrable. Recent studies have found that large numbers of Ludwig's Bustards are killed after they collide with overhead power lines.
A continent of contradictions, Africa has an enormous array of plants and animals under threat. Financially under-resourced, conservation on the continent suffers as a result. Yet Africa has a relatively high proportion of the world's biodiversity and many of the world's most intact ecosystems.
Biodiversity is under the spotlight once again as the world prepares to celebrate the International Day for Biological Diversity tomorrow, 22 May, part of the United Nations International Year of Biodiversity in 2010.
Celebrating their 50th birthday this year, 2010 also represents a special milestone for UCT's Percy FitzPatrick Institute of African Ornithology
The Fitztitute is the only ornithological research institute in the Southern Hemisphere and one of only a handful in the world. While a 50th anniversary is a time to reflect and celebrate, coinciding with the International Year of Biodiversity offers the Fitztitute a unique opportunity to raise their achievements in the field to an even higher level.
The official theme of International Biodiversity Day in 2010 is Biodiversity for Development. The Fitztitute's contributions over half a century have been in the areas of research, teaching and public awareness of biodiversity science.
In 1992 the institute introduced a taught MSc course in conservation biology and in 2004 it was awarded the prestigious status of Centre of Excellence in Science and Technology by the Department of Science and Technology and the National Research Foundation.
Termed the 'crisis discipline', conservation biology is among the most relevant of modern sciences, striving to balance the needs of people with those of nature, says Fitztitute director Prof Phil Hockey.
The Fitztitute's research focuses on understanding and maintaining biodiversity, while undertaking scientific studies involving birds, and contributing to the theory and practice of maintaining biological diversity and the sustained use of biological resources. Because of their mobility and conspicuousness, birds have been successfully used as indicators of environmental change.
---
This work is licensed under a Creative Commons Attribution-NoDerivatives 4.0 International License.
Please view the republishing articles page for more information.
---