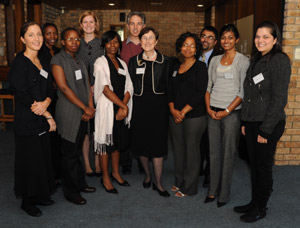 Happy times: VC Dr Max Price and Dr Reno Morar, deputy dean for health sciences, joined UCT alumna Prof Mary Robertson in a cocktail function with former and present medical students who had benefited from her awards and scholarship.
Building inspirations and aspirations were key objectives when eminent neuropsychiatrist and UCT alumna Professor Mary Robertson welcomed recipients of her awards and scholarship - all but one UCT graduates - to an "educative and bonding" weekend.
Robertson, an eleventh-generation South African who was the fourth generation in her family to graduate from UCT, jetted in from the UK last week to meet with the eight "delightful young ladies", as she described them.
They were doctors Chwayita Luwaca, Sibsi Mondlana and Azwe Takalani, all winners of the Professor Mary Robertson Progress Prize for a graduated female medical student who made the most progress over the six years of study; Drs Jacquie Cirota, Nevadna Singh, Tricia Pickard and Debbie Rencken, the recipients of the Professor Mary Robertson Prize for Excellence for a top female medical graduate; as well as Gabaza Machele, a 4th year medical student, who was awarded the Professor Mary Robertson Scholarship, a full-cost bursary for a historically disadvantaged female medical student from second to final year.
The three-day programme included dinner with their host as well as trips to Robben Island and Cape Point as she got to know them better.
Robertson graduated from UCT in 1971 and received a Doctor of Medicine (MD) in 1983. She was the first woman to receive a Doctor of Science in Medicine (DSC [Med]) at UCT in 2006, and only the ninth recipient. She instituted her suit of awards and scholarship in recognition of her DSc [Med] and her family's enduring relationship with UCT.
"I was so excited about it [DSc] that I decided to plough back something," she explained. The DSc [Med] is the Faculty of Health Sciences" most senior doctorate, rarely awarded and only to persons of "exceptional academic merit" on the basis of original published work.
At a cocktail function held in the faculty's MAC Club, UCT vice-chancellor, Dr Max Price, presented Robertson with a gold pin in recognition of her "generous" donations as a member of the Chancellor's Circle, a society of donors who have given R50 000 and more to the university.
---
This work is licensed under a Creative Commons Attribution-NoDerivatives 4.0 International License.
Please view the republishing articles page for more information.
---